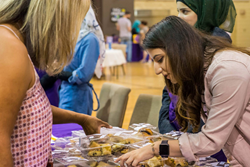 Come on out to share sweets, share cultures and share love with Syrian refugees.
Paradise Valley, AZ (PRWEB) September 13, 2017
Experience a Taste of Syria at Syrian Sweets Exchange 5.0 at Paradise Valley United Methodist Church on Sunday, October 1. Purchase homebaked Syrian sweets, Turkish coffee, henna, handcrafted items and more, 10:30 am-12:30 pm in the church Fellowship Center at 4455 E Lincoln Drive, Paradise Valley, AZ 85253. This is the 5th event organized by Phoenix Syrian Sweets Exchange, a local organization whose goal is to show support and solidarity with the Syrian members of our community.
As Syrian refugees work to make America their new home, Syrian Sweets Exchange and other local partners like Paradise Valley UMC are helping equip and empower them for long-term success. Paradise Valley United Methodist Church is pleased to offer this unique opportunity to foster positive cross-cultural interactions and build understanding and friendship with Syrian members of the greater Phoenix community. All proceeds go directly to these families.
Suggested donations:
Sweets come in assorted $5 boxes and $2 bags. Most art and craft items range from $5-$25. Face painting is $5, balloon twisting $2, and henna tattoos are $5+ for adults and chidren. All services are provided by refugee women who have been trained and empowered to be self-reliant. Drinks, like Turkish coffee, are available for sale ($1-$2) to pay for packaging and labeling sweets. Each of the entrepreneurs have donation jars at their table to accept donations. Please bring cash for easy transactions. A limited number of "ATM" stations will be on site to get cash with credit cards for a 3% Paypal fee.
The church's on-site, volunteer-run, full-service coffee shop, the Paradise Perk, will also be open for business, with all proceeds going to PVUMC youth missions.
This event is also about exchanging information and providing opportunities to help refugees now living in the Phoenix area:

Family Sponsors mentor refugee families to help them navigate the way in their new home. PVUMC began RAFT (Refugee Assistance and Friendship Teams) last year when they welcomed two Syrian refugee families. Today, both families are living and working in Mesa, and their children are learning English and attending school. Read more about our partner, Lutheran Social Services of the Southwest, and on the church news blog. Watch the video interview with Adnan Radwan, who arrived in July 2016 and received help from PVUMC's RAFT. Get more information about how to get involved with RAFT and sponsorship at the event.
Phoenix Syrian Sweets Exchange is also looking for Reading Pals who will come weekly to a refugee family's apartment and help the children learn to read English.
A Supper Club has been designed to host a freshly cooked dinner, prepared by refugees in your own home. This helps refugees learn how to cook and serve, enhancing skills that may translate into a catering or restaurant business, while introducing family and friends to Syrian cuisine.
All of these experiences have been designed to help refugees and foster a rewarding cross-cultural experience.
Come on out to share sweets, share cultures and share love with Syrian refugees.
Read more about Syrian Sweets Exchange at their website http://www.SyrianSweetsAZ.com and RSVP on Eventbrite for the October 1 event.