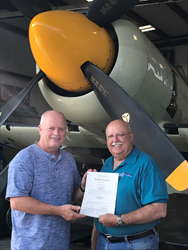 Mentair's Managing Partner Sharon Grey said, "We are proud to have worked with Airelectric Inc. as David Momquist expands his business opportunities."
Tulsa Oklahoma (PRWEB) September 13, 2017
Mr. David Momquist said; "It's exciting to see my company grow and be able to offer additional aviation maintenance services to the Tulsa Riverside Airport and surrounding area. Mentair's Sharon Grey was great to work with and I'm very pleased with the work we accomplished to obtain this FAA certificate. Airelectric, Inc. has been very busy since receiving our FAA certification and we look forward to future growth for the company."
Airelectric, Inc. is located at 8815 Airport Way, Hangar 5, Tulsa, OK 74132-4014 on the R.L. Jones Jr. - Jenks "Riverside" Airport. Repair station services: Pitot Static Systems, Transponder Certification and RVSM Systems. Other services include aircraft cabin LED lighting upgrade and retrofit installations. Airelectric, Inc. designed and sells the Tow Team Warning System Module (TTWS) which installs on a tug or tow device for a safer movement of aircraft.
Airelectric, Inc. Contact information: Email: Shop(at)Airelectric(dot)us Phone: Main: (918) 370-0001, Mobile: (918) 406-3974 Web site http://www.airelectric.us
Mentair's Managing Partner Sharon Grey said "We are proud to have worked with Airelectric Inc. as David Momquist expands his business opportunities. Obtaining an FAA Repair Station Certificate is a lot of work and partnering with David to obtain certification was a pleasure. Developing a customized and usable set of repair station manuals was a partnership between Mentair and the client. This provided the FAA's reviewing inspectors with a compliant set of manuals and facilitated a productive and smooth start up for the repair station. We wish him all the success with his business."
Mentair is an international consulting company that offers a strong portfolio of aviation consulting services for all types of fixed wing aircraft, helicopter operations, repair stations and ground operations. The company has a network of exceptionally qualified aviation professionals and has the resources to provide clients with a variety of services for business and commercial aviation as well as repair stations and FBOs. Manual development or upgrade services include; repair station manuals, general maintenance manuals, ground operations manuals and hazmat will not carry manuals. Mentair also provides Auditor Training (of interest to IS-BAO auditors), SMS Training and has registered auditors to perform IS-BAO and IS-BAO implementations and audits. Mentair offers services to provide clients with opportunities for process improvements, customized audits, and collaboration to develop methods to sustain benchmark status for their operation.
Mentair Group Pro, LLC, P.O. Box 540666, Omaha, NE 68154-0666 http://www.mentair.com Phoenix Arizona Office 480-788.9767 and 402-403-9767 Omaha Nebraska Office
Sharon Grey sgrey(at)mentair(dot)com