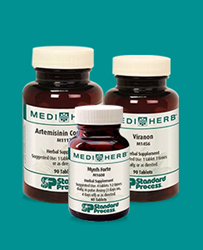 These three clinically relevant products will give our bodies the best chance to rebuild naturally. - Kerry Bone, Mediherb co-founder.
Palmyra, Wisconsin (PRWEB) September 12, 2017
Every day our immune systems are exposed to a variety of challenging environmental factors that can lead to fatigue, stress, decreased energy and other health concerns. Standard Process Inc., introduces Artemisinin Complex, Myrrh Forte and Viranon, a specifically formulated trio of products developed by MediHerb® to support immune system function and internal defenses.*
Immune systems that operate at peak levels protect our bodies from environmental stressors, but individuals whose systems are compromised often feel vulnerable and less equipped to fight off challenges. Based on extensive research and following a strict quality assurance process, herbal supplement manufacturer MediHerb® has developed three innovative products designed to work separately or together to address a variety of immune system challenges.*

Artemisinin Complex is an exclusive combination of Sweet Wormwood herb and Sarsaparilla root, a formulation that cleanses the blood and supports healthy digestion and the normal flushing of natural toxins from the body.*
Myrrh Forte is a unique formulation created with Myrrh oleo-gum resin, collected from bark native to Eastern Africa and Arabia, which offers the most concentrated cleansing solution available. This provides natural support for a healthy intestinal environment and respiratory system. It is also used as an overall tonic to support bodily functions.*
Viranon is a combination of Thuja leaf, Licorice root and St. John's Wort herb and flowers which supports a healthy immune system response, respiratory health and acts as a tonic to support vitality.*
"For some time now, one of the key objectives of my herbal practice has been to protect against special immune system challenges presented by our environment and our interactions with each other," said Kerry Bone, MediHerb co-founder and director of research and development. "These three new, clinically relevant products will give our bodies the best chance to rebuild naturally.*"
Available via health care professionals, Artemisinin Complex and Viranon are offered in 90-tablet bottle size and Myrrh Forte is available in a 60-tablet bottle size. When used in combination, under proper dosing guidelines, this product trio maximizes specialized support for your immune system.*
Standard Process is the exclusive United States distributor for MediHerb products.
*These statements have not been evaluated by the Food and Drug Administration. These products are not intended to diagnose, treat, cure, or prevent any disease.
About Standard Process Inc.
Standard Process is guided by the whole food philosophy of its founder, Dr. Royal Lee. Dr. Lee's goal was to provide nutrients as they are found in nature, where he believed their natural potency and efficacy would be realized. Today Standard Process proudly carries on Dr. Lee's legacy and regularly grows more than 80 percent of the raw plant ingredients used in its products on its 420-acre certified organic farm in Palmyra, Wisconsin. Using state-of-the-art manufacturing processes to retain vital nutrients within each ingredient, Standard Process manufactures its supplements in its certified organic manufacturing facility. Standard Process employs high quality control standards and follows the Food and Drug Administration's good manufacturing practices. Connect with Standard Process at http://www.facebook.com/standardprocess or http://www.standardprocess.com.
About MediHerb
Australian-based herbal supplement manufacturer Mediherb provides a wide range of herbal products in liquid extracts and tablets, which meet pharmaceutical good manufacturing practice (GMPs) code. MediHerb's commitment to quality is evident in every aspect of the business, from the sourcing of herbs through to unique manufacturing processes that have revolutionized the herbal products industry. MediHerb has a unique research and development department with scientists who are internationally regarded as phytochemical experts, and have published numerous papers in respected peer-reviewed journals. MediHerb, co-founded in 1986 by Professor Kerry Bone, is available in Australia, Canada, New Zealand, South Africa, United Kingdom, and the United States. MediHerb products are sold exclusively in the United States through Standard Process Inc. Learn more about MediHerb at http://www.mediherb.com.