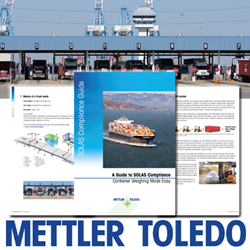 METTLER TOLEDO can help companies that ship internationally get the information and equipment they need to comply.
Greifensee, Switzerland (PRWEB) September 12, 2017
The International Convention for the Safety of Life at Sea (SOLAS) is an international maritime treaty that requires ships to comply with minimum safety standards in construction, equipment and operation that went into effect July 1, 2016.
Little disruption
Much like the turn of the millennium, many people were watching and waiting for the impact to take effect. Fortunately, disruptions were minimal thanks to the three-month grace period that was put into place shortly before the deadline. However, leading up to the implementation of the new law there was an abundance of confusion in the industry.
Biggest issue
Many companies had trouble determining which involved party should take responsibility for providing the Verified Gross Mass (VGM) or the weight of the loaded container. Documentation is now required at the port prior to being accepted for loading.
The answer here is simple, whoever is listed as the Shipper on the bill of lading has the responsibility of providing and certifying that the container weight is accurate. For some companies that still handle shipments in house, it is the responsibility of the shipping department. For those businesses that use a third-party shipping company, that responsibility would be delegated to them. Either way, without that VGM documentation, a shipment could be turned away.
SOLAS expertise
METTLER TOLEDO's SOLAS Compliance Guide provides the answers you are looking for. As the world leader for industrial weighing equipment and the only company with a global product and service reach, METTLER TOLEDO is a trusted partner for SOLAS compliance equipment and education. The guide is intended to educate business leaders on all options available to them, It covers the following topics:
https://www.mt.com/global/glo/home/library/guides/transport-logistics/VEH_SOLAS_Regulations.html?smartRedirectEvent=true

What is SOLAS?
How to comply with Method 1
How to comply with Method 2
Service for maintaining compliance
No matter what your current logistics chain looks like, METTLER TOLEDO has a product that can be easily integrated to fill SOLAS compliance requirements. Download a free copy of the SOLAS Compliance Guide.
About METTLER TOLEDO
METTLER TOLEDO is a leading global manufacturer of precision instruments. The Company is the world's largest manufacturer and marketer of weighing instruments for use in laboratory, industrial and food retailing applications. The Company also holds top-three market positions for several related analytical instruments and is a leading provider of automated chemistry systems used in drug and chemical compound discovery and development. In addition, the Company is the world's largest manufacturer and marketer of metal detection systems used in production and packaging. Additional information about METTLER TOLEDO can be found at http://www.mt.com.