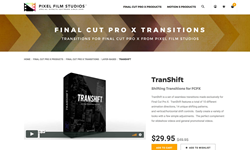 TranShift is a new FCPX Plugin that is a set of layer based transitions.
Aliso Viejo, CA (PRWEB) September 11, 2017
TranShift is a set of seamless transitions made exclusively for Final Cut Pro X. TranShift features a total of 10 different animation directions, 14 unique shifting patterns, and vertical/horizontal shift controls. Easily create a variety of looks with a few simple adjustments. The perfect complement for slideshow videos and general promotional videos.
TranShift is a set of layer-based transitions featuring shifting animations. These highly customizable transitions are the perfect complement for picture slideshows and promotional videos. Seamlessly move from one clip to the next with drag and drop ease. To use TranShift, simply drag a preset and place it between two clips. Drag the edge of the transition in the Final Cut Pro X timeline the shorten or lengthen its duration.
These shifting transitions allow viewers to select from 14 different patterns in an intuitive drop down menu. Select from horizontal and vertical divisions, grids, and more abstract presets as well. With the shift amount sliders, users can quickly change the speed and direction of the shifting layers. Combine the power of these drop down menus to create dozens of looks.
TranShift features three powerful transition presets– each easy to use and simple to customize. The Zoom In preset blasts through the current scene and instantly pulls viewers into the next scene. The Zoom Out preset pulls viewers away from the current scene and introduces the next scene. With the directional preset, editors can choose from 8 different directions by selecting a new option in the animation drop down menu provided.
Intuitive controls can be found in the top-right inspector menu within Final Cut Pro. Utilize a variety of animation drop down menus to change the look and feel of the transition. With vertical and horizontal shift sliders, video editors can customize the amount of movement that occurs between the shifting layers. Create quick whipping looks or a more gradual look with the click of the mouse.
Established in 2006, Aliso Viejo, California-based Pixel Film Studios is an innovative developer of visual effects tools for the post-production and broadcast community. Their products are integrated with popular non-linear editing and compositing products from Apple FCPX. Apple, the Apple logo, Mac OS X, and Macintosh are registered trademarks of Apple Inc. in the U.S. and/or other countries. All other trademarks and trade names are the property of their respective owners.