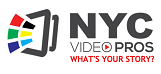 New York, New York (PRWEB) September 12, 2017
NYC Video Pros (nycvideopros.com) now offers comprehensive Facebook Live video solutions.
"We see tremendous opportunity for organizations to use platforms like Facebook Live to share their stories with global audiences," says Executive Producer, Jason Cohen. "Utilizing these tools in corporate and brand communications requires a strategic approach to ensure that live broadcasts are on message, mindful of the brand experience and integrated with other public relations, marketing, and social media tactics. We're offering a range of Facebook Live video solutions to help organizations strategically leverage the platform. We can do everything from consult on a strategy through providing a professional turnkey multi-camera broadcast solution."
NYC Video Pros' Facebook Live video solutions include the following offerings:
· Consultation: a strategic conversation that includes Facebook Live use case identification and assistance in developing a broadcast schedule.
· Smartphone Broadcast: consultation services as listed above, plus coordination of the on-location broadcast for up to two hours. Use of a smartphone basic light and audio kit, and the broadcast produced by one of NYC's professionals.
· Professional Broadcast: consultation and smartphone services as listed above, plus the use of one or more professional grade cameras and microphones, a complete multi point lighting kit for a professional look and feel, one of our professional producers, and a technical crew to orchestrate the production.
Facebook Live is a powerful tool that has the ability expand online video presence and tap into the power of distributing live video content. The platform provides a great opportunity to connect, share, and energize target audiences with conversational video content that can be broadcast from virtually anywhere.
There are a number of ways to utilize live video streaming and integrate it into PR & marketing campaigns - schedule a time to talk with NYC Video Pros to strategize and identify the best Facebook Live approach.
To learn more, call (212) 931-4866 and visit nycvideopros.com/solutions/.
About NYC Video Pros
We are the leading video production company in New York City. Corporate video production runs in our DNA.
We have vast experiences from shooting NYC Video Productions on-site to working in-studio and helping organizations of all kinds and sizes produce high quality video content.
Our experienced team is dedicated to producing corporate video productions with the utmost in professionalism. We're experienced and mindful of the bottom line to ensure that our solutions are affordable and can be scaled to meet the needs of the smallest projects, to the largest productions.
Our approach is simple; you talk, we listen; our corporate video production solutions are client-driven, and personalized based on the specific needs of your campaign.
Contact Details:
NYC Video Pros
41 Madison Avenue
New York, NY 10010
Phone: (212) 931-4866
Source: NYC Video Pros