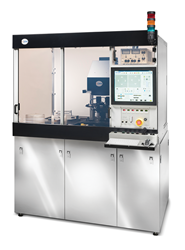 San Jose, CA (PRWEB) September 12, 2017
OAI, a leading Silicon Valley, CA-based manufacturer of advanced precision lithography equipment for the semiconductor, MEMS, and microfluidics industries, announced today that multiple units of their advanced, Model 6000 production mask aligners have been sold and installed. OAI's unique, modular design approach adds the flexibility required to meet the customers' specific production process. This design paradigm offers a production mask aligner system at the lowest total cost of ownership (TCO). The exceptional versatility of the Model 6000 Mask Aligner enables the customer to start with a manual system and upgrade in the field to a fully automated, cassette to cassette system as production requirements grow.
The OAI Model 6000 production mask aligner has numerous features designed specifically to meet the changing needs of semiconductor device manufacturers. Designed by OAI's engineers, the systems feature dual Kohler Optical Integrators designed by OAI's engineers, that deliver exceptional uniformity. The system throughput is optimized using a single or dual robot configuration with up to 180 wafers per hour (1st mask). The Model 6000 system will accommodate cassette to cassette or FOUP to FOUP wafer transfer for wafers up to 300mm.
With the development of this production mask aligner, OAI anticipates the challenges presented by the fast moving semiconductor and MEMS industries. Built on OAI's proven modular platform, the Model 6000 is a high-performance, high-resolution lithography system that delivers a level of performance that is offered at an extremely compelling price point. Charles D. Turk, CEO of OAI notes, "The wide acceptance of the Automated Model 6000 Mask Aligner for production elevates OAI's business to the next level. It affirms our modular design approach, and enables us to offer advanced mask aligner systems at the lowest total cost of ownership. This new design builds in added flexibility for meeting the customers' specific production process."
About OAI
Headquartered in San Jose, CA, OAI has developed a time-tested platform of modularized subsystems, which serve as the core of custom configured photolithography systems. This proven approach controls cost, improves reliability, increases system flexibility, and ultimately reduces the overall cost of ownership. All OAI products are manufactured in the USA in San Jose, CA and are in use worldwide. OAI is a member of SEMI and the MEMS & Sensors Industry Group. The product line includes Mask Aligner Systems, UV Light Sources, LED UV Light Sources, Solar Simulators, I-V Test Systems and UV Measurement Instruments. Cost-effective, affordable solutions are the hallmark of the OAI brand.
More on the OAI Model 6000 Production Mask Algner:
http://www.oainet.com/oai-6000-pp.html
For more information:
http://www.oainet.com
sales(at)oainet(dot)com
685 River Oaks Parkway
(408) 232-0600
Media contact:
Robert Goldberg
robert(at)startupfactory(dot)biz
(415) 987-6677