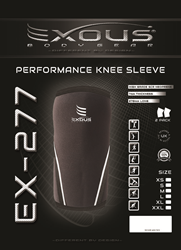 Consumers, athletes and serious competitors who are looking for a dependable set of knee sleeves will love the quality, thickness and extra length offered by our range
Holborn, London (PRWEB) September 13, 2017
EXOUS Bodygear have designed the EX277knee sleeves with competitors and keen athletes in mind, their R&D department worked with existing fitness based customers and focus groups to find out what the prosumer wanted in a pair of high quality knee sleeves. The research pointed to more protection and better fitting to stay in place during a myriad of different exercises and sports. The EX277 has been made with a longer profile approximately 2cm extra ( 0.7") on the front side of the knee sleeves. The extra length gives more knee protection over the knee joint and subsequently stays in place better than standard generic knee sleeves that are only 10'5" in length or 25cm.
The product also uses SCR neoprene over SBR neoprene, the former being a stronger form of neoprene that has better stretch characteristics and tear resistance over SBR neoprene. They are primarily designed for competitive sports people looking for a high quality set of knee sleeves that can be used for weight lifting, and in particular power sports where stress and impact is placed regularly on the knee joints. Cross fit enthusiasts are a big market for knee sleeves especially since both knees need to to be protected from the various demanding types of workouts and exercises seen in cross fit competitions.
The EX277 can be used for the following:
> Support for injured knees providing heat and warmth to aid recovery
>As a preventative aid to increase the intra-articular pressure around the knee giving support under stress
>As a general compression aid to also receive pain from soft tissue aspect of the patella and meniscus
The EX-277 knee compression sleeves also come in 5 different sizes for the most popular knee circumferences and also the two ends of the extreme for knees on the smaller side under 12" in circumference to XL with knees over 17". This brand size range means it can be suitable for youths, women and large built athletes who have large built thigh muscles who will require larger sizes.
The Knee sleeves will be sold on both the EXOUS Bodygear website and also directly through amazon UK and amazon Europe.
"Consumers, athletes and serious competitors who are looking for a dependable set of knee sleeves will love the quality, thickness and extra length offered by our range. The price is competitive and the function and feedback we have got from athletes already is encouraging that we have made the right product for the right market." Mannie Kaur Brand manager had said.
About EXOUS Bodygear
EXOUS Bodygear are a sports and fitness brand dedicated to making high-quality functional products that meet the needs of the consumer. Our brand ethos is "different by design" making new and exciting products that have been designed to offer more function, features and value to what is in the marketplace already