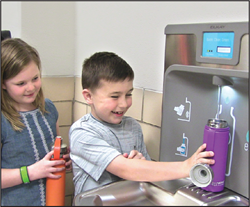 "We're not only reducing waste and helping the environment, we're creating better health habits."
Boulder, CO (PRWEB) September 12, 2017
EcoVessel, a leading designer of hydration products and Elkay Manufacturing, the largest water fill station provider in the U.S., have formed a partnership to create a unique opportunity for schools across the country. The purpose of this partnership is to educate and encourage students to eliminate the use of single use plastic water bottles. Last year, Americans used 50 billion plastic bottles of water and 35 billion of them ended up in landfills, on beaches and in our oceans, harming the environment and marine life. Additionally, chemicals from plastic can be absorbed by the body, altering hormones and causing potentially harmful health effects.
The program works by having students take orders from their family, neighbors and friends for EcoVessel bottles that will be custom printed with their school mascot or logo. The earnings from their sales will finance Elkay ezH2O bottle fill stations for their schools. The bottles are made of premium stainless steel and feature EcoVessel's signature TriMax Triple Insulation Technology so drinks stay cold for 36 hours and hot up to 8 hours. The bottles do not contain any BPA, phthalates, and are condensation-free. The fill stations provide ready access to filtered water that is free of lead, chlorine and other impurities so it is easy and convenient for kids to stay healthily hydrated. "We're not only reducing waste and helping the environment, we're creating better health habits by encouraging students to drink and enjoy clean, good tasting, filtered water instead of sugar loaded drinks," says Jon Fox, EcoVessel's founder and president.
Details of the program are available at http://www.elkay.com/ezwishkit.
About EcoVessel
Jon Fox founded EcoVessel in 2009 in response to the safety and environmental concerns that arose from the increasing use of plastic water bottles. After finding a limited choice of reusable bottles for himself and his family, he started the company to offer people of all ages and lifestyles a diverse choice of premium quality stainless steel hydration and drinkware products that are high performing and designed with modern styling and custom features. The company's signature TriMax® Triple Insulation Technology has been independently tested to outperform competitors and the company stands behind the quality of all of their products with their 100 year warranty.
Part of the company's mission is to support organizations that work to provide clean, safe drinking water around the world. Eco Vessel helps support Water for People, a long established non-profit, which helps provide long-lasting solutions to the water, sanitation, and hygiene problems in the developing world.
EcoVessel is based in Boulder, Colorado at the foot of the Rocky Mountains where creative ideas are inspired by the natural beauty of the area as well as their dedicated team and loyal customers. EcoVessel products are available on their website, http://www.ecovessel.com and in more than 20 countries.