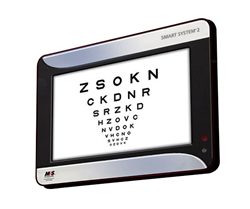 "We have been thrilled with the quality control we have achieved with our Smart System USA hardware. And now with Smart System 2/2020 we continue to improve our hardware performance as well as offering sophisticated design appeal to our customers."
Niles, IL (PRWEB) September 13, 2017
M&S Technologies is pleased to announce that the Smart System® 2, 20/20 USA is now available to eye care professionals worldwide. This All-in-One Visual Acuity and Contrast Sensitivity Testing System has been carefully redesigned with the most up-to-date requirements of the modern eye care professional in mind. The hard-working Smart System® 2 | 2020 encompasses a faster processor, increased RAM and larger capacity for patient education and fixation videos. The LED monitor is also enhanced for longer life span and has an overall lighter weight. The M&S Tablet controller and minimal cables provide a sleek technological look any advanced practice needs. In addition, the fully upgraded Smart System® 2 | 2020 is a significant value with over 20 vision tests including numerous interfacing functions with other exam room equipment. It also offers diverse multi-media capabilities for practice marketing and patient education using durable, yet high-tech hardware design. All still offered at the same price point as the original Smart System®.
"When M&S Technologies launched the Smart System USA several years back it was our objective to stop our dependence on the short-lived, fickle supply options of consumer-driven computer hardware," said Joe Marino, CEO-M&S Technologies, Inc. "We have been thrilled with the quality control we have achieved with our Smart System USA hardware. And now with Smart System 2/2020 we continue to improve our hardware performance as well as offering sophisticated design appeal to our customers."
The next opportunity to demo the Smart System® 2 will occur at the Vision Expo West, September 14-16, at booth MS11039. We hope to see you there!
About M&S Technologies:
Founded in 1990, M&S Technologies is a software company specializing in visual testing systems and dedicated to developing the very best products for eye-care professionals, optometry schools and universities, and products used in clinical trials. To date, over 27,000 systems are in use across 39 countries with a strong network that includes 25 distributors and several strategic industry alliances. Our hallmarks are always superior service and industry-leading technology and products that have been peer reviewed and calibrated to the ANSI and ISO specifications.