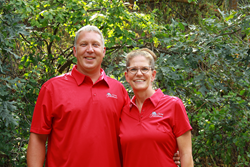 Even when you're prepared, going through the process of moving or clearing an estate can be emotional and overwhelming – whether you live next door or across the country.
Rapid City, SD (PRWEB) September 12, 2017
A year ago, D'Lynn and Jim VanValkenburgh were driving to their home in Deadwood, South Dakota, when D'Lynn found herself daydreaming. As a frequent Caring Transitions online auction customer, she was thinking about how great it would be to own her own Caring Transitions and how much she wanted a career that gave her the opportunity to truly help people. Now D'Lynn and Jim are pleased to announce that they are following that dream and opening Caring Transitions of Rapid City.
Caring Transitions' specially trained team can handle organizing, packing, de-cluttering, moving, resettling, estate sales, online auctions, liquidations and preparing homes for market. Caring Transitions is America's largest resource for managing senior relocations, but the services are also perfect for busy families and individuals in need of assistance. Caring Transitions of Rapid City serves Rapid City, Spearfish, Sturgis, Deadwood, Lead, Sundance, New Castle and the surrounding communities.
Jim retired from the Air Force after 21 years of service. D'Lynn, who was born and raised in South Dakota, spent 21 years working for a successful small business wearing many different hats.
"In early Spring, the place where I had been employed for 21 years wasn't working out anymore. I began thinking about my next steps. I've always believed in living a life bigger than myself. With the impact Caring Transitions makes on people's lives, opening this business seemed like the perfect way to earn a living and enjoy what you do every day," D'Lynn said.
Whether your situation is planned or unexpected, Caring Transitions' services are perfect for seniors moving in with family or into a safer living situation as well as busy families and people clearing out the home of a loved one who has passed. All of Caring Transitions' services are customizable, so clients only pay for the services they need – whether that means managing the entire move and estate-clearing or just getting someone resettled into their new place.
"I've dealt with the kind of loss and relocation many of my clients are facing. Even when you're prepared, going through the process of moving or clearing an estate can be emotional and overwhelming – whether you live next door or across the country. At Caring Transitions, we can handle the entire process from beginning to end or we can fill in wherever you need our help. I want to alleviate the stress of those situations and make a difference for people facing a transition," D'Lynn said.
D'Lynn and Jim are looking forward to the moving and resettling aspect of the business, but D'Lynn is also personally excited about the online auctions and estate sales.
"I've shopped the Caring Transitions' online auctions for a couple of years. I'm looking forward to bringing that service to my clients and to the Black Hills area. I have a real admiration and respect for the older generation –their ideals, their stories and their possessions. I want to get to know those stories," she said.
Caring Transitions of Rapid City is insured and employees have been background checked. For additional information, call (605)550-4970, email DVanValkenburgh(at)CaringTransitions(dot)com or visit http://www.CaringTransitionsRapidCity.com.
About Caring Transitions
Caring Transitions, founded in 2006, is the first national franchising concept specializing in senior relocation and transition services. With more than 200 locations throughout the United States all owned and operated by Certified Relocation and Transition Specialists, Caring Transitions provides clients with supportive moves, auctions, rightsizing and transitions. This includes expert advice plus a well-executed transition plan beginning with the initial sorting of personal belongings through packing, shipping and selling of items to the final clearing and cleaning of the property. For more information, visit http://www.caringtransitions.com or visit us on Facebook.