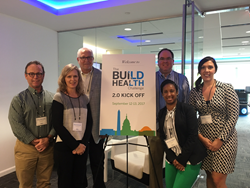 Des Moines, Iowa (PRWEB) September 14, 2017
Healthy Homes Des Moines (HHDSM) is pleased to announce its status as a recipient of the BUILD Health Challenge 2.0 grant. This grant worth $250,000 will allow HHDSM to move into its second phase of work in the Des Moines area helping families with children who suffer from asthma. HHDSM partnered with BUILD 1.0 in 2015 and is honored to be selected as one of 19 communities to receive additional funding from BUILD 2.0 in the 2017-2019 term. New this year, Mid-Iowa Health Foundation and Telligen Community Initiative were among two of the 12 funding partners for the BUILD 2.0 collaboration. It is exciting to have their local representation on this national BUILD health project.
Through HHDSM, households with children suffering from asthma receive home repairs to address asthma triggers, and families receive tailored health education to self-manage asthma and maintain a healthy home. Children with developing lungs are particularly vulnerable to experiencing asthma symptoms. HHDSM remediates household asthma triggers and repairs the sources of the problem in the home.
"Our goal is to make major changes in upstream health initiatives to improve the lives and health of children in our community," states Suzanne Mineck, President of Mid-Iowa Health Foundation. "With the announcement Healthy Homes Des Moines as one of the BUILD 2.0 initiatives, more work can be done to strengthen the support of our children who are at the highest risk and make a real impact in their lives."
HHDSM applies a two-tiered approach using health education to teach families about asthma and care management, then repairing homes to improve indoor air quality. If a child's lifestyle, environment and home life present many triggers, they are more prone to suffer from the disease. The program counts on the school system and physicians from the three Des Moines hospital systems to refer children to the program. Eligible children are those at the highest risk for asthma attacks, with a history of aggravated airways demonstrated by repeat and urgent care visits. They must be between the ages of two and 12, live in Des Moines and meet certain income restrictions.
HHDSM is one of 19 communities selected to participate in the nationwide BUILD Health Challenge, a unique national program focusing on bold, upstream, integrated, local, and data-driven projects that can improve community health. The BUILD Health Challenge grant provides funding, capacity building support, and access to a national peer learning network to enhance collaborative partnerships here locally to address our community's most pressing health challenges. Special thanks to the BUILD Health Challenge for their support of this initiative.
Representatives from Healthy Homes Des Moines who attended the announcement event in Washington D.C. include Eric Burmeister from Polk County Housing Trust Fund, Deb Kazmerzak representing Health Homes Des Moines, Chris McCarthy from Unity Point, Melissa Brunia from Mercy Hospital and Kiersten Cooley from Visiting Nurses Services. Matt McGarvey attended the presentation for Telligen Community Initiative as one of the 12 national funders.
About Healthy Homes Des Moines
Healthy Homes Des Moines is a collaboration among Polk County Housing Trust Fund, Polk County Health Department, Mercy Medical Center, Broadlawns Medical Center, UnityPoint Health, the City of Des Moines, Viva East Bank, the Mid-Iowa Health Foundation, Telligen Community Initiative, Visiting Nurse Services of Iowa, Polk County Public Works, and Des Moines Public Schools. Healthy Homes Des Moines is funded in part by BUILD Health Challenge, which supports community collaborations using non-clinical approaches that give everyone a fair chance to be healthy. Build stands for Bold, Upstream, Integrated, Local, and Data-Driven (BUILD).