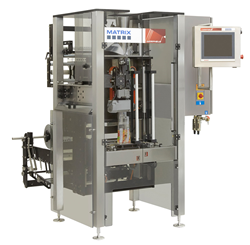 SAUKVILLE, Wis. (PRWEB) September 13, 2017
Matrix, powered by Pro Mach, introduces at Pack Expo 2017, Sept. 25-27 in Las Vegas, two new Morpheus form/fill/seal (f/f/s) models. The first is the Morpheus XL, intended for high-speed f/f/s of bags up to 15 inches wide. The second is a new Morpheus model featuring Rockwell Automation technology. With these models, Matrix provides the packaging industry two rugged, well-engineered, cost competitive, and easy-to-use f/f/s systems backed by outstanding customer support. (Matrix Pack Expo Booth # C-3425)
A single narrow-to-wide bag f/f/s Morpheus XL potentially does the work of two machines Morpheus is Matrix's next generation solution for high-speed f/f/s. The new Morpheus XL produces pillow bags from two inches wide all the way up to 15 inches – three inches wider than the original model. The Morpheus XL can run speeds exceeding 120-bags per minute and is designed to run in intermittent mode as well as continuous mode. For the first time, a Morpheus f/f/s machine can also produce gusseted bags, expanding packaging operations capabilities.
With its fast, precise changeover and broad range of bag sizes and types, a single Morpheus XL can potentially replace two slower and older machines for significantly lower capital investment and reduced labor. The Morpheus XL features a redesigned stainless-steel drip pan, which makes it faster and easier to change forming tubes. The new drip pan also keeps the interior of the machine cleaner.
Now a Morpheus for corporations that standardize on Rockwell Automation technology
Brands and copackers can now have a Morpheus f/f/s machine with either a Beckhoff or a Rockwell Automation control architecture. Drawing on the expertise of the Rockwell Automatic Global OEM Technical Consultant (GOTC) team, Matrix engineered a new Rockwell Automation-based Morpheus as fast and as capable as the original.
Morpheus model featuring Rockwell Automation technology features:

CompactLogix 5380 controller that is ideal for applications requiring high-performance communications, I/O, and motion control for up to 32 axes
VersaView® 5400 industrial computer featuring an open architecture for greater application flexibility
Kinetix 5500 servo drives for support of integrated motion on EtherNet/IP™
5069 compact I/O modules for high speed digital control. These modules have spring clamp terminals for vibration immunity
Morpheus models are optimized for packaging frozen, fresh-cut, and individually quick frozen (IQF) foods in polyethylene-film bags. They also feature AutoPro servo-controlled adjustment of nine critical machine settings for fast, precise changeover. All Morpheus platform machines are easy to service and operate. They are engineered for low cost operation.
Three Morpheus models will be on display at Pack Expo. Stop by Matrix, Booth # C-3425, to see the Morpheus, Morpheus XL, and Morpheus featuring Rockwell Automation technology. Call 888-628-7491 and visit http://www.MatrixPM.com for the full range of Matrix offerings.
About Matrix
Matrix Packaging Machinery is an industry-leading manufacturer known for f/f/s technology. Since 1988, Matrix has built a solid reputation for delivering rugged, well-engineered, cost competitive, and easy-to-use packaging systems backed by outstanding customer support. Matrix solutions are in operation throughout the world, handling a wide range of products in diverse conditions. For more information, please visit http://www.MatrixPM.com.
About Pro Mach
Pro Mach is a leading provider of integrated packaging and processing products and solutions for food, beverage, consumer goods, pharmaceutical, and other diverse companies. Through multiple brands, Pro Mach provides product packaging and processing equipment, PMMI certified trainers, installation, parts, and service in Bottling & Capping, Primary Packaging, Pharmaceutical Packaging, Flexible Packaging, Material Handling, Labeling & Coding, and End of Line, as well as Integrated Solutions for complete packaging lines.
Pro Mach has a diverse customer base, from Fortune 500 companies to smaller, privately held businesses worldwide, which depends on reliable, flexible, technologically advanced equipment and integrated solutions. Pro Mach is headquartered near Cincinnati, Ohio, with manufacturing facilities and offices throughout the United States, Canada, Mexico, Europe, United Arab Emirates, and China. For more information about Pro Mach, please visit http://www.ProMachInc.com.