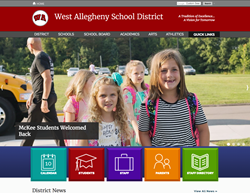 Our team is inspired by the challenge of working in the technology space where significant change is commonplace.
Pittsburgh, Pennsylvania (PRWEB) September 18, 2017
West Allegheny Schools gets a nod at the national level by the Web Marketing Association for its online presence.
The Pennsylvania district's website, created and hosted by eSchoolView in Columbus, Ohio, received a 2017 Education Standard of Excellence mark and is just one of two K-12 public school systems among the 19 winners.
The custom site brings vast new capability to West Allegheny's web presence with its drastically evolved new look. The site places an emphasis on clean graphics, a prominent photo gallery and new announcements. Less emphasis on text also increases interaction between the site and end-user, and a By the Numbers section highlights district accomplishments.
"Our success is built on our ability to grow and exceed expectations," eSchoolView Executive Director Rob O'Leary said. "Our team is inspired by the challenge of working in the technology space where significant change is commonplace."
The Web Marketing Association announces the winners of its 21th annual WebAward Competition for Web site development. Entries in 96 industry categories were judged on design, copy writing, innovation, content, interactivity, navigation, and use of technology. A complete list of the winning sites can be found at the WebAward Web site at http://www.webaward.org.
West Allegheny has worked with eSchoolView for roughly a year. The site was launched in February and helps the administrators and teachers in the district to better connect with parents and local residents.
The mobile performance of West Allegheny's site also improved dramatically with eSchoolView's responsive design. It is now optimized to display on a variety of platforms and devices, eliminating the need for duplicate data entries in order to manage two sites.
"We love the accessibility and mobile-friendly layout of the site and that visitors can easily locate the items they need on any platform," Communications Coordinator Karen Ruhl said. "It provides a very clean and intuitive design and easy navigation between and within the distinct content areas of our site."
eSchoolView builds custom websites for public, private, charter and faith-based K-12 schools throughout the United States. Its easy-to-use Content Management System (CMS) and integrated product base were specifically designed to serve the education sector. Site owners can broadcast live and embed blogs, surveys, RSS feeds, e-newsletters, podcasts, videos and other tools on to their sites.
OneView, one of eSchoolView's newest products, allows school districts to read and push data back into various student information systems (SIS), such as ProgressBook, PowerSchool or eSchoolPlus. In turn, the software increases internal efficiency and parent engagement through one login.
eSchoolView was created in 2008. Its revenue growth lands the company on the Inc. Magazine's 5000 list of fastest growing privately held companies in the U.S. for the fourth consecutive year.