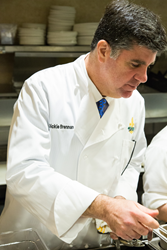 New Orleans, Louisiana (PRWEB) September 14, 2017
The Great British restaurant Boisdale of Canary Wharf will be extending the summer with a limited pop up residency from acclaimed New Orleans chef and restaurateur Dickie Brennan, his kitchen brigade and front of house team from Monday 25th September until Sunday 1st October. Keeping the good times rolling, Boisdale will welcome the culinary celebrity who brings his celebrated hearty cuisine and southern hospitality to London, alongside the New Orleans Saints Football Team due to make their Wembley debut on October 1st.
Proprietors Ranald Macdonald and Dickie Brennan met earlier this year and over a long lunch dreamt up the whole idea. It was a match made in heaven, both sharing unrivalled love of all the good things in life - food, music and hospitality - deeply ingrained in both Highland and New Orleans culture and history. In classic Boisdale style, the NOLA takeover will be fun-filled and authentic, bringing a slice of quintessential New Orleans to the capital of east London and only 16 minutes from Green Park Tube. With a curated music line up combined with Dickie's home-cooking and signature cocktails and front of house flare, guests from near and far will be welcomed to the warm embrace of La Nouvelle-Orléans overlooking the fountains of Cabot Square and the iconic London skyline.
FOOD
The Brennan family, of Irish descent, is credited with creating a culinary tradition regarded by many as the epitome of New Orleans fine dining. Dickie Brennan comes from a family of restaurateurs and is the only member of the family to have held the position "Executive Chef" and his culinary aptitude is evident through the many accolades his restaurants have received, including "Best Steakhouses in the United States" (Travel + Leisure) and "Best New Restaurants in America" (Esquire).
With the New Orleans pop up, guests will be taken on a culinary journey to the Deep South. The menu will showcase some of the Crescent City's best loved and famed dishes, masterfully created by the man who does it best. Dishes will include Gumbo Ya Ya, Savoury Crabmeat Cheesecake, Shrimp Etouffee, Shrimp and Grits and Bananas Foster.
MUSIC
Boisdale described by Jools Holland, Boisdale Patron of Music, as "fairy tale of delight" is a destination music venue renowned for its affinity with blues, jazz and soul which is why live music performances by acts such as Don Pipkin, The Mississippi Swamp Dogs and Dixie Devils will perfectly complement Dickie's residency dining experience.
DRINK
In addition to the music and Brennan's fantastic specialty dishes guests will have an opportunity to experience classic cocktails from Dickie Brennan's bar team using authentic ingredients like Southern Comfort, which was actually founded in New Orleans in 1874 at the very beginning of cocktail culture. Those visiting from the USA can revel in Boisdale's world renowned collection of over 1,000 rare malt whiskies and as well as Europe's finest collection of hand-rolled Cuban cigars which can be all enjoyed on the first floor Mardi Gras Garden Terrace.
The New Orleans pop up will provide a unique, vibrant and stimulating environment in the heart of London. Boisdale of Canary Wharf once again will be offering unbeatable value, the very best quality ingredients and the famous Boisdale welcome, all dramatically and uniquely enhanced with an infusion of genuine Southern hospitality.
Boisdale at Canary Wharf: Boisdale is a critically acclaimed great British restaurant, providing an eclectic environment celebrating the very best of Britain's heritage through food, drink and music. With sites in Belgravia, Canary Wharf and Bishopsgate, the restaurant has a unique atmosphere in which to enjoy one of the world's leading whisky collections and exceptional wine list including own bottled wine and vintage Champagnes. Also retailing some of the world's best hand-rolled Cuban and vintage cigars, each Boisdale restaurant features a bespoke Humidor, with Boisdale Belgravia and Canary Wharf also offering a discreet cigar terrace.
Dickie Brennan & Co's Restaurants: Dickie Brennan and his partner, Steve Pettus, and sister, Lauren Brennan Brower, own and operate four successful New Orleans restaurants all located in the French Quarter in New Orleans, Louisiana. They carry on the legacy of more than sixty years of New Orleans fine dining. More information on their restaurants can be discovered at http://www.frenchquarter-dining.com
The New Orleans Convention & Visitors Bureau (NOCVB) is a nationally accredited, 1,100member destination marketing organization and the largest and most successful private economic development corporation in Louisiana. The CVB and its members influence thousands of decisionmakers and millions of visitors to choose New Orleans through direct sales, marketing, public relations, branding and visitor services at our New Orleans headquarters and offices in Chicago, Columbia, SC, Washington, D.C., the United Kingdom, France, Germany, Canada, Brazil and China. Consistently recognized as one of the top five CVBs in the country, the New Orleans CVB celebrates its 57th anniversary in 2017. For more information, please visit http://www.neworleanscvb.com; http://www.facebook.com/neworleans; http://www.twitter.com/VisitNewOrleans
Boisdale of Canary Wharf Cabot Place, Canary Wharf London, E14 4QT http://www.boisdale.co.uk 020 7715 5818 reservations(at)boisdale-cw.co.uk