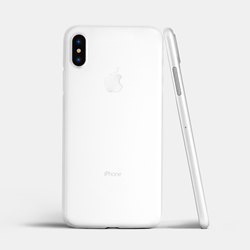 "This makes us one of the very first iPhone accessory manufacturers to be able to bring to market protective cases for the new iPhone 8, iPhone 8 Plus and iPhone X"
South Pasadena, California (PRWEB) September 12, 2017
Debuting alongside Apple's 10th anniversary iPhone, Totallee, a leading company of premium iPhone accessories, is pleased to announce the release of the world's thinnest iPhone 8, 8 Plus and X case.
"Our cases are now available for the new iPhones without a wait time and will ship within 24 hours," stated Matt Hug, the founder of Totallee. "This makes us one of the very first iPhone accessory manufacturers to be able to bring to market protective cases for the new iPhone 8, iPhone 8 Plus and iPhone X."
Apple's iPhone X was officially announced on September 12th. According to Hug, the release of his company's new iPhone 8, 8 Plus and X case in tandem with Apple's own release will allow people to protect their expensive device from day one—even before they have the new iPhone in hand.
"We are very excited to be able to offer our customers cases that will perfectly fit their new iPhone 8, 8 Plus and iPhone X," stated Hug. "Our case adds an extra layer of everyday protection and keeps your iPhone safe from scratches, bumps and scuffs."
At only 0.02", the company's iPhone cases are some of the thinnest and lightest on the market and guaranteed to keep smartphones free from imperfections without adding any unnecessary bulk. Totallee's cases are also as minimalistic as possible and are completely branding-free. During the pre-sale of the company's latest case, Hug says the response from consumers was overwhelming.
"Our customers really appreciated that we have been doing our homework and are ready with a product that will help them protect their new iPhone," stated Hug. "Over the past four years, Totallee has been establishing itself as a premium brand for minimalistic and affordable iPhone cases. Every year, our customer's expectations increase, and we have been fortunate to surpass those expectations every year."
While many iPhone accessory makers charge people upwards of $50 for iPhone cases, Totallee cuts out the middleman and sells directly to consumers. This is how the company is able to offer high-quality phone cases for less than half the market price. Consumers can purchase the iPhone 8, 8 Plus and X cases for just $19. It is also backed by a two-year warranty.
"At Totallee, we like to add a personal touch with every order we process. In fact, every order is fulfilled through our cozy office in sunny South Pasadena, CA. Each product also comes with a warranty card hand-signed by the person who packaged your order," stated Hug.
The iPhone 8, 8 Plus and X case is available in 8 beautiful colors. Free shipping is also available for orders over $30. To purchase the company's newest case, visit http://www.totalleecase.com.
ABOUT TOTALLEE: Totallee offers an alternative to poorly designed, bulky and overpriced iPhone cases sold by companies with poor customer service. Based in South Pasadena, California, the company's products are designed to be sleek, elegant and enhance the experience owners have with their iPhone without being too expensive. "We are a small business that cares about the products we create and the people we sell them to," according to the company's founder, Matt Hug.
MEDIA CONTACT:
Matt Hug, Totallee Founder
EMAIL: hello(at)totalleecase.com
WEBSITE: http://www.totalleecase.com