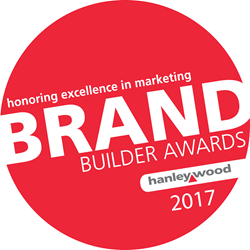 Washington, D.C. (PRWEB) September 13, 2017
Hanley Wood, the premier information, media, event, and strategic marketing services company serving the residential and commercial, design and construction industries has announced that Waypoint Living Spaces® has been selected as the 2017 Brand Builder Awards Marketer of the Year. The award was presented at the 2017 Brand Builder Awards Luncheon, held yesterday in Chicago as part of Hanley Wood's 2017 Foundations Conference.
"We are thrilled to recognize Waypoint Living Spaces® as Marketer of the Year," said Peter Goldstone, CEO of Hanley Wood. "Their use of data, coupled with planning and their focus on lead generation and sales transformed the way Waypoint related to their customers. Their delivery of solutions based on industry and consumer trends matched with their pride in making remodeling easier by giving homeowners the tools they need to realize their vision is what drove our jury of marketing experts to select Waypoint Living Spaces® as the Marketer of the Year."
The Marketer of the Year Award is presented annually by Hanley Wood to a company in the residential and commercial construction and design industry that best demonstrates a commitment to innovation, excellence in leveraging marketing programs to drive sales, and adoption of modern marketing tactics.
"Our success in a business crowded with hundreds of competitors selling similar products is proof that an insightful business plan, merged with an innovative, inspired marketing plan, can create success in any field with any product." Said Todd Sabine, Vice President of Sales and Marketing for Waypoint Living Spaces®. "We are thrilled to be named Marketer of the Year for our commitment to innovation."
"We started with a blank page, some interesting data and a world that said, 'We don't need another cabinet line.' Six years and hundreds of millions in sales later, we think we might be on to something," said Bill Puckett, Chief Creative Officer of Puckett Marketing, agency of choice for Waypoint Living Spaces®.
About Waypoint Living Spaces®
Waypoint Living Spaces®, a division of American Woodmark Corporation, is a leading U.S. manufacturer of quality cabinetry and home remodeling materials. Waypoint® takes pride in providing quality products to create any desired look or style to meet the rigorous needs of the American family and their way of life. Waypoint® is committed to environmental protection through recycling and reuse of materials and uses leading edge technologies to limit both hazardous and non-hazardous emissions, by-products, and waste. Waypoint® products are distributed nationally by more than 1,200 dealers/designers. For more information on Waypoint Living Spaces® go to https://www.waypointlivingspaces.com/
About American Woodmark Corporation
American Woodmark Corporation manufactures and distributes kitchen cabinets and vanities for the remodeling and new home construction markets. Its products are sold on a national basis directly to home centers, major builders and through a network of independent distributors. The Company presently operates nine manufacturing facilities and seven service centers across the country.
About Puckett Marketing
Puckett Marketing is a full-service marketing agency located in Middleburg, Virginia, just outside the greater DC area. They're a creative driven agency grounded in the analysis of a client's business and their best opportunities for differentiation and growth. The leadership team at Puckett Marketing merges big brand Madison Avenue experience with all the latest promotion, social media channels and dynamics to keep clients top of mind with their target audiences. They have a building full of vibrant, type-A professionals who take pride in creating unique, dramatic and effective work that is grounded in strategy. There's a saying around the Puckett offices: "All the likes in the world are, like, useless if they don't generate revenue." Visit their website at http://www.puckettmarketing.com/
About the Brand Builder Awards
The Brand Builder Awards recognize the most innovative and effective marketing campaigns throughout the residential and commercial design and construction industries. Companies selected for recognition have executed campaigns that generate sales, motivate buying behavior and inspire customer loyalty. More than 80 companies submitted entries in nine categories, ranging from traditional advertising campaigns to social marketing strategies to channel marketing programs.
About Hanley Wood
Hanley Wood is the premier company serving the information, media, and marketing needs of the residential, commercial design and construction industry. Utilizing the largest analytics and editorially driven Construction Industry Database, the company provides business intelligence and data-driven services. The company produces award-winning media, both digital and print, high-profile executive events, and strategic marketing solutions. To learn more, visit http://www.hanleywood.com/