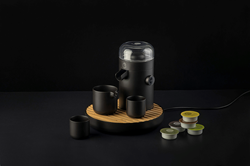 We hope to bring the ancient Eastern tea ritual to the rest of the world by elevating the process with advanced technology
Houston, TX (PRWEB) September 13, 2017
Today a Kickstarter campaign launched for a hybrid tea brewing machine that automatically creates a perfect artisanal cup of tea. TEAMOSA is the first and only tea brewer to use ultrasonic extraction, a process that enhances flavor and retains more antioxidants than in traditionally brewed tea. The complete system is available for the early bird price of $239 (retail: $399).
Making a quick cup of tea is not hard, but any tea aficionado knows that the drink has complexities. A graduate of the HAX accelerator, the TEAMOSA founders are from a Taiwanese family who have run a tea plantation and retail shop for 34 years. These years of expertise mean they understand the intricacies of the six main types of tea (green, black, oolong, dark, white, yellow).
"As second generation tea makers from Taiwan, the power of a perfect cup of tea has been instilled in us," said Co-Founder and COO Dr. Catherine Liu. "We want to share this with the world. TEAMOSA combines modern science and convenience with Eastern tea expertise."
To maximize flavor, aroma, and health benefits, tea requires a specific water temperature, tea-to-water ratio, and brewing time. TEAMOSA uses preset parameters to make sure each cup of tea is brewed perfectly according to tea type and taste. An accompanying app displays the optimal setting for each type of tea. It allows the tea-drinker to customize taste, strength, temperature, and size at any time. Tea can be brewed hot or cold.
The hybrid system can brew both loose leaf tea and TEAMOSA recyclable, paper tea capsules, containing 15 premium varieties of Taiwanese straight tea from the Ming Yu Tea plantation in Taiwan. The capsules are made of biodegradable paper and a thin layer of recyclable PET, which is scanned to automatically determine brewing specifics.
"We believe in quality and optimizing each cup of tea," said Co-Founder and CEO Irven Liu. "Tea is truly an art form. But it's also a science. By mastering the art of tea making, we're ensuring maximum antioxidant intake and enjoyment. We hope to bring the ancient Eastern tea ritual to the rest of the world by elevating the process with advanced technology."
TEAMOSA's campaign will run from September 13, 2017 to October 27, 2017, with an estimated delivery date of September 2018. For more information on the pledge levels, visit the Kickstarter page. Media wishing to interview their personnel should contact PR agent, Allison Aitken.
Media Contact
Allison Aitken
Proper Propaganda
(514) 703-4989
allison(at)properpropaganda.net