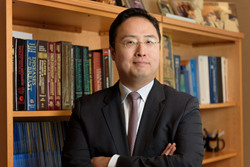 Our objective is to provide the highest level of pain management to our patients through innovative technology and personalized client care for every individual.
New York, NY (PRWEB) September 12, 2017
In recognition of September as Pain Awareness Month, Gabriel H. Jung, M.D., Oncologist/Hematologist at Queens Medical Associates, sheds light on pain related to cancer and blood disorders. As one of the many services the leading oncology and hematology practice provides their patients, pain management is focused on reducing pain and improving quality of life through an integrative approach to care. In the below interview, Dr. Jung reviews treatment options and tips in an effort to help individuals find appropriate relief and maintain or regain a higher quality of life.
"Pain management plays a critical role in the treatment of cancer and blood disorder patients," explains Dr. Jung. "There are multiple factors to take into consideration including when pain symptoms appear, the varying intensity and length of occurrence. Our objective at Queens Medical Associates, is to provide the highest level of pain management to our patients through innovative technology and personalized client care for every individual."
Living with pain – what you need to know
1. What are the most common causes of pain in cancer patients?
Cancer-related pain can be from direct effect of the tumor on the body. For example, cancer can spread to bones causing pathological fractures which can commonly occur in various malignancies. Another cause of pain is from treatment related adverse effects. Specific cancer therapy drugs can cause peripheral sensory neuropathy that can be painful to patients.
2. What are the most common causes of pain for people who suffer from blood disorders?
There is a variety of pain that can result from blood disorders, but most notable is for people who have hereditary anemia such as sickle cell disease who are prone to getting pain crises. These pain crises can be severe enough for a patient to be hospitalized and can be life threatening.
3. Opioid abuse is an increasing concern. How do you balance the risk and the benefits of using opioid medications?
My approach is to always educate the patient regarding appropriate use of opioid. I emphasize initial use of over-the-counter and non-opioid medications prior to using opioid analgesics. Short term use is also emphasized in patients who suffer from acute pain events. However, for patients who have terminal cancer living with chronic pain symptoms, it can be difficult to balance risk and benefits of opioid medications. In this population, my goal is to improve a patient's quality of life and I often have frank discussions during the initial consultation. Most patients want to limit use of opioid medications to decrease risk of cognitive deficits, constipation, and risk of becoming dependent. However, as a clinician, I also emphasize adequate use of both non-opioid and opioid medications for optimal pain management so they can have reasonable function in their daily activities.
4. What types of alternative medicine treatments are available in replacement of/addition to traditional medication?
I have had some limited success with patients who undergo non-Western based pain management such as acupuncture or meditation in addition to or in replacement of oral or intravenous pain medications. It is hard to predict who responds to such alternative approaches, but I do encourage patients with chronic pain to pursue such care from a trusted clinician.
5. Are there any new innovations in pain management?
There are innovations in delivery of pain medications. Instead of tablets that are ingested or need to be infused thorough a vein, there are medications that can be administered by placing inside the cheek which can help people who have difficulty with swallowing.
6. Are there daily habits patients can practice to help reduce pain?
I believe every individual can develop behavioral techniques to help reduce pain, including simple breathing exercises to meditations. However, everyone also has different tolerance to severity of pain, and such techniques will require commitment from each individual to be effective and should be done while taking traditional pain medication.
7. When discussing cancer pain with your doctor, is there anything of importance to note?
It is important to describe specifics of pain symptoms such as location, trigger, pattern, duration, as well as severity. Also, it is important to describe what alleviates pain. There are many factors that contribute to pain and even the smallest detail can be important to the clinician.
8. At your practice, who helps patients dealing with pain on a daily basis and how is that support provided?
At QMA, all of the staff from the medical assistants, to nursing staff and nurse navigators, social workers, physician assistants, pharmacist, and the physicians deal with our patient's pain on a daily basis. Patient who are experiencing an acute pain event will be alerted to the clinical staff for prompt evaluation so that appropriate management can be provided as soon as possible. Long term support for patients with chronic pain is challenging but can be done with frequent assessment by the clinical staff (i.e., nurses and PAs and MDs) not only during the visits but over phone interviews.
ABOUT QUEENS MEDICAL ASSOCIATES
Queens Medical Associates (QMA) is a well-established physician practice and infusion center which provides hematology and medical oncology care for patients with cancer and blood disorders. Located in Fresh Meadows, New York, QMA's physicians and clinical staff bring decades of experience providing exceptional care and treatment. Approximately 300 patients are served daily translating into over 200 treatments. QMA's team members communicate in five official languages (English, Spanish, Chinese, Korean, and Russian). The practice also offers infusion therapy for many conditions including Crohn's disease, multiple sclerosis, rheumatoid arthritis, and organ transplants. For more information about Queens Medical Associates, visit http://www.queensmedical.com/.