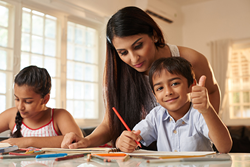 I get to see students from all walks of life—from all over the country and world—and it's exciting because I get to go on a [virtual] field trip every day
Baltimore, MD (PRWEB) September 13, 2017
As technology powers our daily lives, many families seeking an education solution that offers a flexible schedule and high-quality teachers have turned to International Connections Academy (iNaCA), a US-based accredited virtual private school, for their full-time and part-time K-12 educational needs.
"We welcome all iNaCA students to our global school community for the 2017-2018 school year—whether they are new or returning, full-time or part-time—and look forward to working together to expand our horizons both geographically and educationally," said School Director Hannah Rinehart. "Our licensed teachers, counselors, and staff are committed to serving the educational needs of all iNaCA students, including those whose families live, work, and travel internationally."
VIDEO: Watch as educators share how virtual education works and why they're excited about the school year: "I get to see students from all walks of life—from all over the country and world—and it's exciting because I get to go on a [virtual] field trip every day," said science teacher Jodi Mallia.
International Connections Academy takes a personalized approach to learning with an award winning US curriculum, state-of-the-art technology, high-quality teachers and a secure easy-to-use online learning system. iNaCA students head back to school on the heels of its 2016-17 annual Parent Satisfaction Survey:
97% of parents agree that the curriculum is high quality
96% of parents are satisfied with the helpfulness of teachers
96% of parents agree that their children are satisfied with the program
95% of parents would recommend the school to other families
93% of parents agree that the technology tools improve their child's learning experience
International Connections Academy students learn from home or anywhere there is an Internet connection and work with high-quality teachers who are licensed and specially trained in online instruction. Students in grades K–12 can choose to take one class or a full course load—depending on their scheduling needs. iNaCA students may tailor their schedules to accommodate exam preparation and applications, and take advantage of innovative electives and programs like Career Technical Education and AP courses, and have access to its college acceleration program to concurrently earn a high school diploma and an associate degree in four years.
Enrolled families are invited to meet weekly this month with school leaders to get quick-start tips, ask questions, and get to know Hannah Rinehart, School Director, and Katie Mussachio, Assistant Principal. Families needing to alter or enhance their student's learning may enroll for the first semester by the following dates:
Outside of the US for grades K-8 - November 3, 2017
Full-time - November 17, 2017
Part-time - December 15, 2017
Interested families across the globe are encouraged to learn more by attending a virtual information session or by speaking with an admissions advisor at 888-977-7420.
About International Connections Academy
International Connections Academy (iNaCA) is an accredited, online private school serving students in grades K–12 throughout the United States and abroad. Recognizing individualized instruction as the key to student academic and personal success, iNaCA's highly trained, certified teachers offer instruction tailored to each student's strengths and challenges using an award-winning computer-based curriculum, real-time instruction, and time-tested course materials from leading publishers. In 2016, iNaCA served students in 49 countries including the U.S. International Connections Academy is part of the global learning company Pearson. For more information, visit http://www.InternationalConnectionsAcademy.com.