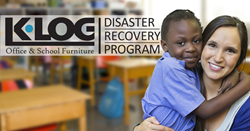 We are deeply concerned about schools and public agencies in the region and want to help them get back up and running.
Zion, Illinois (PRWEB) September 15, 2017
In response to the devastation caused by hurricanes Harvey and Irma, K-Log, Inc., a national school and office furniture retailer, is announcing a special discount program for public agencies located in Texas, Florida, Puerto Rico, the US Virgin Islands and other major disaster declaration areas. Eligible agencies including schools, colleges and universities, government agencies and not for profit organizations that are members of K-Log cooperative partner agencies or contracted organizations. From now through December 31, 2017, K-Log is doubling the discount extended under all of the company's cooperative purchasing agreements and contracts to those impacted by the storms. Members in the effected areas will receive a 10% discount from published net pricing for all items in the K-Log catalog and on the company's website.
"We are deeply concerned about our customers in the region and are prepared to assist in the recovery in whatever way we can," said Linda Lester, K-Log Vice President. "In addition to further savings, K-Log is offering to coordinate expedited delivery when available, help with procurement options, and free space planning and design assistance."
RESOURCES
For full program details: http://www.k-log.com/recovery
FEMA Disaster Resources: https://www.fema.gov/
Membership in national cooperative programs is free for public agencies and non-profit entities throughout the US, with online enrollment taking just a few minutes. K-Log is proud to partner with these national cooperative agencies:
The Interlocal Purchasing System (TIPS): https://www.tips-usa.com/
BuyBoard Purchasing Cooperative: https://www.buyboard.com/
1Government Procurement Alliance (1GPA): http://1gpa.org/
Keystone Purchasing Network (KPN): https://www.thekpn.org
Purchasing Cooperative of America (PCA): http://www.pcamerica.org/
Founded in 1984, K-Log is an authorized dealer for over 100 school and office furniture manufacturers. As both a traditional catalog marketer and e-commerce furniture dealer, K-Log provides customers unmatched service and efficiency, offering over 15,000 products. Focused on the public sector, K-Log holds five national cooperative purchasing contracts including TIPS, BuyBoard, 1GPA, Keystone Purchasing Network (KPN) and PCA as well as more than 65 regional agency and local school district agreements.
K-Log, Inc.
1224 27th Street
Zion, Illinois 60099
Contact Phone: 800-872-6611
Website: http://www.k-log.com
Email: info(at)k-log(dot)com