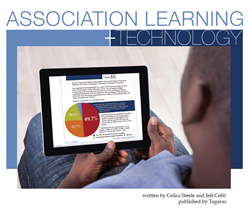 Our hope is that we are now entering into a phase when strategy and impact will become a much bigger focus - Celisa Steele
Carrboro, NC (PRWEB) September 14, 2017
Use of learning technologies by trade and professional associations is widespread, but not rooted in strategy, according to Association Learning + Technology 2017, the 5th and latest edition of a report published by Tagoras, Inc. The report, which was sponsored by Community Brands, continues nearly a decade of tracking use of technology to enable and enhance learning in the continuing education and professional development market.
Association Learning + Technology 2017 draws on responses from 203 participants in an online survey distributed in May 2017 and targeted primarily at individuals working at trade and professional associations. Participants in the report were asked to indicate, based on a broad definition provided by Tagoras, whether their organization currently offers technology-enabled or technology-enhanced learning. Based on their responses, participants were then asked a series of related questions.
Highlights from the report include:

With more than 90 percent of survey respondents using some form of technology to enable or enhance learning and another 6.9 percent planning to within 12 months, learning technologies are now an established fact of life for most organizations that deliver continuing education and professional development.
Learning management system usage has roughly doubled since the first Tagoras survey in 2008. In that year, 34.4 percent of respondents reported using an LMS. In the 2017 survey, 66.9 percent reported using an LMS.
Mobile learning has also grown significantly. When asked "Do you provide a mobile version (i.e., a version specially formatted to be easily viewed and navigated on a mobile phone or tablet device) for some or all of your learning content? " only 8.9 percent of respondents to the 2011 survey (the first time the question was asked) said they did. In 2017, 49.7 percent of respondents indicated that they provide a mobile version.
In 2015, survey participants were asked for the first time about whether they provide "microlearning ((i.e., very brief learning experiences)." 18.1 percent said they did. In 2017, 30.1 percent said they did.
In spite of wide spread adoption, there is still significant room for organizations to mature in their usage of learning technologies. Only 37.7 percent of respondents to the 2017 survey reported having a formal, documented strategy for their overall learning and education business. Of those using technology, only 23 percent have a strategy for using technology to enable or enhance learning. Most do not have formal product development or pricing processes in place for their technology-based learning, and most are not using technology to repeat, reinforce, and sustaining learning over time.
"We are encouraged by the widespread adoption of learning technologies in the continuing education and professional development market," said Tagoras managing director Celisa Steele, "but we are eager to see organizations move to a greater level of maturity in using these technologies as part of their learning businesses. Our hope is that we are now entering into a phase when strategy and impact will become a much bigger focus."
The Tagoras report can be accessed at https://www.tagoras.com/catalog/association-learning-technology/
About Tagoras, Inc.
Tagoras provides advisory services, publications, and educational events to organizations in the business of lifelong learning, continuing education, and professional development.
About Community Brands
Community Brands is a technology-driven company that delivers purpose-built solutions to more than 13,000 of the world's leading associations, nonprofits, and government entities to help them thrive and succeed in today's fast-paced, evolving world. Community Brands' focus on accelerating innovation and bringing to market modern technology solutions helps power social impact, effect positive change, and create opportunity. With Community Brands' software and services, organizations better engage their members, donors and volunteers; raise more money; effectively manage revenue; and provide professional development and insights to power their missions. To learn more, visit http://www.communitybrands.com.