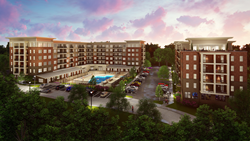 We've been bullish on this neighborhood since the late 80's and are excited about the growth we see
Richmond, VA (PRWEB) September 21, 2017
20 years ago, Margaret Freund, founder of Fulton Hill Properties, had a vision. She wanted to create a development around Fulton Hill Studios while maintaining the character of the community. Freund started by purchasing the historic Robert Fulton School, renovated the building, and continued providing housing for 50 artist studios.
Now, two decades later, Freund is seeking to expand her vision. Artisan Hill, which is now under construction, will offer apartments, live/work studios for artists, a market and cafe in a newly renovated historic Fulton Hill Studios building beside two new buildings. This will be the first mixed use, mixed income community in the Greater Fulton area. Adjacent to Powhatan Park, Artisan Hill spans a historic cobblestone road, Carlisle Avenue, which will be reopened to the public, and offers sweeping views of the James River and downtown Richmond.
The new midrise construction will be controlled access, and have 204 apartments in two buildings, and 11 pool-side artist studios. The community offers a multitude of indoor and outdoor social spaces, including a rooftop deck, pool, athletic field, dog pool, bike repair shop, and garage parking.
The new apartments have private balconies and include hardwood floors, carpeted bedrooms, granite countertops, dishwasher, washers and dryers, cable and internet.
The development is the first of its kind to integrate mixed income housing in the Greater Fulton community. The property is scheduled to be ready for occupancy in Summer 2019.
"We've been bullish on this neighborhood since the late 80's and are excited about the growth we see," said Freund.
Fulton Hill Properties believes in the transformative power of place. The company's mission is to transform communities through thoughtful adaptive reuse, smart growth and innovative design. Fulton Hill Properties is committed to revealing the hidden qualities in buildings and communities and breathing new life into neighborhoods.