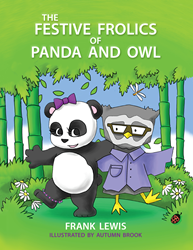 "When my wife and I began dating, I told her I was going to write a children's book for her. I would ask her to come up with a theme for each chapter. And before every special occasion or holiday, I would present her with a new chapter." Frank Lewis
Dallas, Texas (PRWEB) September 14, 2017
Virginia-based Venture Capitalist Frank Lewis Rotman (pen-name Frank Lewis) makes his foray into the children's book world with his first release, The Festive Frolics of Panda and Owl (Brown Books Kids). A whimsical tale of best friends and their "bestest" adventures, the main characters are based on the author (Owl) and his wife of one year, Jody (Panda).
Without any prior experience in professional writing, Frank decided he would write a children's book for his future wife. What started as a romantic gesture became the story of Panda and Owl, and the story of Frank and Jody. "When my wife and I began dating, I told her I was going to write a children's book for her," Lewis says. "I would ask her to come up with a theme for each chapter. And before every special occasion or holiday, I would present her with a new chapter. So this is my attempt to be romantic."
This attempt resulted in a romantic gesture in return—Jody submitted the manuscript to Brown Books Kids and published the book in secret as a surprise wedding gift, under the code name "Project XO." "She's clever like that," Lewis boasts. He describes The Festive Frolics of Panda and Owl as not just a story he wrote for his wife, but a collaboration between the two of them. This story is a tale of friendship, adventure, and fun, and follows characters based closely on them. Jody dedicates the book to Frank Lewis, her "wise Owl and true love."
When they aren't collaborating on Panda and Owl adventures, Jody and Frank are busy with their startup companies. Jody is the CEO of Nestiny (http://www.Nestiny.com), a real estate tech business that helps home buyers, sellers, and agents while Frank is a Founding Partner at QED Investors (http://www.QEDInvestors.com), a Venture Capital firm focused primarily on financial services. However, this is only the beginning of Frank's writing adventures. "I'm the son of an English teacher and enjoy writing as a hobby. Panda and Owl aren't finished with their adventures yet and I have several books in mind that will be targeted at more mature readers."
Join two lovable characters and best friends as they play, sing, and dance together past the Wandering Winding Twisty Bulging Stream and through the Bamboo Forest in The Festive Frolics of Panda and Owl, available on http://www.FrankLewisBooks.com and everywhere that books are sold.
About Brown Books Publishing Group (BBPG)
Founded in 1994 as an Entrepreneurial Publisher for Entrepreneurial Authors®, Brown Books Publishing Group was established to fill a need in the publishing world by allowing authors to have a voice in the publishing process while retaining the rights to their intellectual property. Applying this innovative Relationship Publishing™ model, Brown Books has cultivated a prestigious stable of authors, from New York Times bestsellers to Pulitzer Prize winners and more. Boasting hundreds of high-quality books across genres, Brown Books is a fiercely independent publisher that encourages author empowerment. In 1994, Brown Books ushered in A New Era in Publishing™, and more than two decades later, continues to be a successful innovative leader in the publishing industry. For more information, please visit http://www.BrownBooks.com
About The Agency at Brown Books (ABB)
As a sister company of Brown Books Publishing Group, The Agency at Brown Books is backed by more than 20 years of publishing excellence, leveraged in the first full-service public relations, marketing, branding and distribution provider within a publishing house. The Agency provides high-level public relations, marketing and distribution services for not only Brown Books authors, but also non-affiliated authors, all within the same house. For more information, please visit http://www.TheAgencyatBB.com