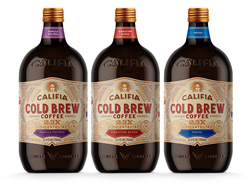 We curated these coffees from the ground up – quite literally – to offer consumers the most sophisticated, delicious, transparently-sourced coffee experience currently available at the retail level
Los Angeles, CA (PRWEB) September 13, 2017
Califia Farms, the number one cold brew coffee brand in the natural channel (RTD/RFG)(1), today unveiled Cold Brew Concentrates, a completely new line of premium cold brew coffee concentrate in Vanilla Tolteca, Signature Blend and Mocha. Distinctive for their 'stand-out-on-the-shelf' packaging and graphics, each of the 750 ml (25.4 oz) embossed amber bottles, with screw tops, delivers up to 8 cups of carefully-crafted, Direct Trade-sourced coffee. The new concentrates continue Califia's mission of 'Better Coffee for All' and will be sampled for the first time at the Califia Farms booth (#329) at Natural Products Expo East.
"We curated these coffees from the ground up – quite literally – to offer consumers the most sophisticated, delicious, transparently-sourced coffee experience currently available at the retail level – and with the added benefit of allowing consumers to master their own coffee cups and decide what strength they want for each occasion," said Brian Lovejoy, Coffee General Manager at Califia. Lovejoy honed his coffee credentials as Head of RTD at Verve Coffee Roasters, and leads coffee innovation at Califia alongside beverage visionary and founder, Greg Steltenpohl.
The lightly roasted, Scandinavian-style, 100% Arabica beans from Central and South America are sourced via Califia Farms' Direct Trade program – which aims to empower the 30 million small-plot coffee farmers who benefit from the popularity of specialty coffees for their livelihood.
"Consumers who choose Califia brand coffees have the confidence that they are part of an ethical coffee eco-system that supports not only the sustainability of our planet, but pays premium prices to our farmer-partners, which not only increases their household income but allows them to invest back into their business and increase yields," continued Lovejoy.
At 2.5x strength concentration, Califia Cold Brew Concentrates make high quality cold brew more accessible and affordable to the growing number of consumers opting for the clean energy of coffee. The complex, and very drinkable, coffees can be prepared as dark or as mild as each consumer desires (typical strength is 1 part coffee to 1.5 parts liquid) – and all are low calorie (10 to 40 cals) and low-to-no sugar (0g to 6g). Califia Cold Brew Concentrates can be mixed with water or with Califia Farms Almondmilk and Coffee Creamers, including its easy-to-steam Barista Blend, for an at-home café experience.
Cold brew coffee's popularity continues to skyrocket, with concentrates becoming a key part of the category: cold brew coffee consumption rose 80% in the past year alone, with concentrates making up a quarter of those sales in the natural channel(2).
"While more and more coffee lovers are choosing the clean energy and refreshing taste of cold brew for every occasion, until now, cold brew concentrates have lacked the flavor profile innovation seen in the traditional RTD coffee sector," said Lovejoy. "Our Cold Brew Concentrates bring consumers the coffee taste profile they want – stronger coffee without the bitter taste - in a convenient and aesthetically pleasing format that they are increasingly embracing."
Just as fine wine expresses unique flavor qualities, so too do skillfully cultivated, curated coffee beans roasted in the Scandinavian style, which helps bring out their complexities: the Signature Blend gives off notes of cherry, melon and brown sugar; while Mocha also offers hints of hazelnut and dark fruit; and Vanilla Tolteca has brown sugar and citrus undertones.
Califia Cold Brew Concentrates in Glass join the natural beverage leader's top selling 32 oz carton Concentrated Cold Brew. Califia Farms is the #1 refrigerated coffee brand in the Natural and Specialty Channels over the last year (with sales outpacing Starbucks in specialty retailers), including its innovative dairy-free, Nitro Cold Brew coffee lattes - all of which are dairy-free, kosher, gluten-free and non-GMO project verified. Renowned for its flavor innovation, Califia has won top tasting honors from the likes of Self, Progressive Grocer, Thrillist, Refinery29, Buzzfeed and more.
About Califia Farms (pronounced "Cal-ah-FEE-yuh")
Inspired by Queen Califia, the mythical namesake of the state of California, and headed by beverage visionary Greg Steltenpohl, Los Angeles-based Califia Farms was founded in 2010 and is one of the fastest-growing natural beverage companies in the U.S. Renowned for having the best-tasting, plant-based beverages on the market, Califia has become the number one nutmilk and refrigerated RTD coffee brand in the natural channel by creating innovative, healthy and great-tasting premium beverages that make it easy for consumers to go 'plant-powered' and live dairy-free, without compromise. Califia is on a mission is to discover and share 'what plants can do' to help achieve whole body health and to encourage wider adoption of plant-based foods and beverages for the good of our planet.
Join the conversation with @CalifiaFarms on Facebook, Twitter, Instagram and Snapchat.
Califia Farms Media Relations
mWEBB Communications
Melanie Webber, (424) 603-4340, melanie(at)mwebbcom(dot)com
(1) SPINS 52 Weeks Ending 7/16/17
(2) SPINS/SRI