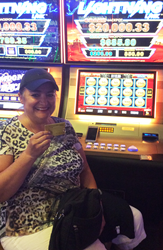 San Jacinto, CA (PRWEB) September 12, 2017
On Labor Day, September 4th, one guest hit a life changing jackpot of $3.2 million, one of the largest jackpots to ever hit in Southern California on a single $3.00 bet.
On September 5th, Salomon Vallejo of Riverside CA, hit another giant jackpot for over $100,000, but that was just the beginning. Other winners hit huge jackpots ranging from $14,000 to $40,000 and more, with the monthly total approaching the whopping 8 million dollar mark.
According to Gene Stachowski, Director of Marketing at Soboba Casino, "This is an exciting time for Soboba Guests, and the good news is there's no slowing down in sight."
There are many new surprises to look forward to in the coming months as well, with hundreds of thousands of dollars in cash, free play and prizes up for grabs, and with the new Soboba Casino Resort going up just around the corner, San Jacinto's Soboba Casino is THE hottest spot for gamers in Southern California.
Soboba Casino features approximately 2,000 of the newest and hottest slot machines, an expansive and modern non-smoking room, 20 classic gaming tables featuring all your favorite card games, and a large outdoor event arena which easily accommodates over 10,000 people. Need to recharge & refresh? Visit the cozy Soboba Cafe and Coffee Kiicha, or experience AC's Lounge with full cocktail bar and three giant HD flat screens including the "Sobobatron", the Inland Empire's biggest HD video wall.
Soboba Casino is proudly owned and operated by the Soboba Band of Luiseno Indians. Come join us for all the fun and then some! Soboba Casino. Where Everybody Goes to Play! For more information visit: https://soboba.com/