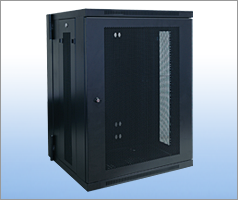 Tripp Lite Rack Enclosures Now Available on Top Building Information Modeling (BIM) Site - BIMobject® Cloud - www.bimobject.com. Developed for use with the most popular design software programs including Revit, ArchiCAD and SketchUp.
Chicago, IL (PRWEB) September 14, 2017
Tripp Lite, a world-leading manufacturer of power protection and connectivity solutions, has made available a catalog of 10 of its most popular rack enclosures on bimobject.com.
The BIMobject® platform is the largest and fastest-growing digital content management system for building information modeling objects. The cloud-based platform provides architects, builders, engineers, designers and students with robust and accurate 3D representations of components used in building and interior design.
By using the BIM objects of Tripp Lite's 10 most popular racks, data center designers will be able to incorporate photoreal drawings of the racks with confidence that the geometry and appearance of the racks is represented accurately within their plans.
The Tripp Lite BIM files integrate into your software of choice so you can download them directly into your design. Compatible software includes 3ds, ArchiCAD, AutoCAD, ifc, PDF, Revit and SketchUp.
Key Features of Tripp Lite's BIM Catalog:
Includes several sizes of rack enclosures, from 6U to 42U
Both wall-mount and floor-standing models are represented
The catalog is available to 84,000 users in the U.S. and 500,000 worldwide
Additional models will be added to the platform in the future
Explore Tripp Lite's BIM Catalog: http://bimobject.com/en-us/product?brand=tripplite
"Having the BIM catalog of racks at their fingertips allows data center designers to make more efficient plans," said Craig Watkins, Tripp Lite's Director of Product Marketing, Racks and Cooling. "They will be able to find the ideal rack for their needs easily and ensure it is compatible with the space."
For more information about Tripp Lite's full line of enclosures and open-frame racks, visit: https://www.tripplite.com/products/cabinets-open-frame-racks~12