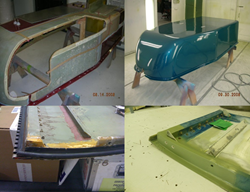 Aurora, Oregon (PRWEB) September 14, 2017
Metal Innovations Inc., a leading provider of maintenance, repair, and modification solutions for the Cessna 208/208B Caravan, announced today that it has achieved FAA approval for expanded Cargo Pod re-coring and Main Passenger Door hinge repairs for the Cessna 208/208B Caravan. This recent addition to MII's already vast capabilities list, allows for extensive cargo pod and passenger door repairs that previously would have required replacement as the only option. These repairs are approved under MII's extensive repair station capability list as an approved repair station specification.
Is your aircraft gaining weight? Your Cargo Pod weighed new at 195.97 pounds. MII is finding Cargo pods which have gained as much as 50-60 pounds with previous repairs and water intrusion into the nomex honeycomb core in the pod bays. Weight means money for most operators. Cargo Pods are made up of multi-layer composite/honeycomb materials and can encounter damage by various means including collisions, water intrusion, general baggage handling, etc. Metal Innovations Inc. repair options address even the most complex repair needs and in most cases can alleviate the need for operators to procure a costly replacement and can lead to costly down time.
The Cessna Caravans Main Passenger doors are a heavily used component that see the majority of wear and tear damage occurring around the inside perimeter predominantly adjacent to the hinge line attachments. The new repair offerings address areas that are most prone to damage and were in the past considered unrepairable. Metal Innovations incorporates repair techniques and engineering practices to both repair and reinforce these areas making them stronger than new and much less likely to incur similar wear issues.
"The new expanded pod and door repairs are a great addition to our already extensive Caravan service offerings," said Craig Wilmes, COO of Metal Innovations.
"We at Metal Innovations are always looking for creative repair solutions to meet customer needs and provide value added repairs when the OEM's are unable to assist," stated Mike Sirr, Quality Manager/Chief Inspector.
About Metal Innovations Inc.
Headquartered at the Aurora State Airport in Aurora, Oregon. Metal Innovations Inc.
(http://www.metalinnovations.com) is an FAA Certified Repair Station #KW7R756N, PMA Authorized critical parts Facility, Cessna Service Center, and Certified WBENC WOSB providing over 21 years of impeccable and innovative repair, maintenance, modification, and manufacturing services for the air carrier, air cargo, corporate, and rotor wing markets. Metal Innovations Inc. is a leader in providing complete solutions for Cessna 208 Caravan operators including anything from minor repair and maintenance to major structural repair and 20k hour inspections/resets.
Contact:
Craig Wilmes
Metal Innovations Inc.
22215 Yellow Gate Lane NE.
Aurora, Or. 97002
PH: +1 (503) 678-2807
E-MAIL: craig.wilmes(at)metalinnovations.com