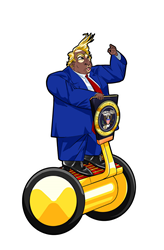 Beetle Trump Deports Enemies
Los Angeles, California (PRWEB) September 14, 2017
New York, NY - Beetlejuice of the Howard Stern Show announced today that his first mobile game has hit the app store.
The game is available on both the Apple and Google Play app stores effective September, 14th 2017.
As if Trump doesn't have enough problems, he now faces off with Howard Stern Wack Packer Beetlejuice, in a new mobile game for iOS and Android.
Beetle for President anyone?
Beetlejuice isn't known for his political prowess, yet he morphs into Beetle Trump
to deport defenseless enemies in this over the top portrayal of the President's ill received policy.
Trump has yet to fire a rebuttal, but rest assured a twitter rant is on its way.
It's a true battle of wits between everyone's favorite Wack Packer and everyone's Wacky President.
The developers have yet to comment, but Beetlejuice went on the Howard Stern Show live to discuss the game and his tactics. Most notably, we learned that Beetlejuice lost 350 pounds in order to help alleviate hi type 16 diabetes.
Beetlejuice: Bad as Can is now available for free in the Apple and Google Play App Stores.