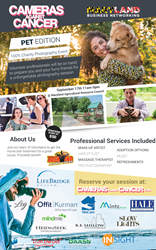 Cameras Against Cancer is such a wonder event, helping so many people who are thrashed by cancer treatment. Amazing smiles all day! -Bridget Hughes
Towson, Maryland (PRWEB) September 13, 2017
On 9/17 from 11am-5pm, Professional Makeup Artists, Massage Therapists, and Hairstylists will prep donors for a personal photo session with Maryland Business Networking's Creative Director, Ross Lewin. Food, Refreshments, and live music from local artist, Slow Lights will be provided to entertain donors and their guests throughout the afternoon. Maryland Business Networking Presents Cameras Against Cancer: Pet Edition Sunday September 17th
The event is in its 4th year and has its own local following and recognition within the Maryland community. MBN is hosting the event at the Maryland Agricultural Resource Center in Hunt Valley, MD, where pets have plenty of space to run around and show their personalities to the camera. For a minimum $50 donation to Zaching Against cancer, donors receive $725 worth of professional services in preparation for their photography session with their four-legged friends.
Maryland Business Networking set out with a goal to bring together like-minded entrepreneurs and provide them a clear path to improve their Wellness, Entrepreneurship skills, and with events like this, improve their community. Local community sponsors LifeBridge Health, DAASN Marketing Technology Firm, Offit Kurman, We Care PDS, and Hale Transport have provided Survivor Sponsorships. Because of their contributions, Maryland Business Networking is able to provide many Current Cancer Patients and Survivors with complimentary sessions, showing them that the Maryland community truly cares for them while making them look and feel beautiful. Not only exclusive to Patients, Donors can come alone for professional headshots and modeling photography, or they can bring the whole family for a pet-friendly day of food, music, relaxing massage, and photography to support Maryland Families living with Cancer.
Truly a local effort, businesses in many industries have joined in to support this event. Mintz Homes, MindME Mobile, R.E. Shilow, "O on the Go" Makeup Artistry, The Insight Community, Media Sponsor HeidNSeek Entertainment, and Lewin Creative Group have all contributed to making this event a reality.