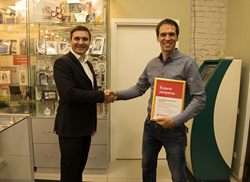 We want to become closer to the recipients, to make the process of receiving or sending the most convenient and easy. Now Boxberry improves actively the quality of service in existing offices and constantly develops the range of services provided there
(PRWEB) September 15, 2017
According to the research organized by Data Insight analytical agency in March 2017, the company is one of three largest networks of pickup points in Russia with its geographical coverage. Among logistics operators, it is the leader in terms of both the total number of pickup points and the number of unique offices.
Now the company's offices are multi-purpose centers. Here customers can receive parcels from 2000 Russian and foreign online stores, send packages and letters to all the cities of Boxberry's presence, make returns of goods (for example, an international return to ASOS online store can be sent free of charge). In addition, the parcel offices accept orders for delivery from small online stores. "Earlier receiving of an order from an online store not in the post office, but in the office of commercial delivery service was perceived as a new level of service and comfort. The convenience of pickup has become normal quite quickly. Now customers want to have all their needs in sending and receiving letters and parcels satisfied in any office of the delivery service. Thus the consumer expects fast and easy service. They are not ready to search long for the pickup point, wait in queues, fill in the papers," - comments Mikhail Konev, Boxberry CEO.
The company intends to grow its footprint as well as to develop pickup points themselves.