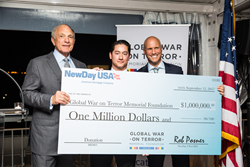 Washington, D.C (PRWEB) September 14, 2017
The Global War on Terror Memorial Foundation (GWOTMF), announced its first $1 million donation by NewDay USA, one of the nation's leading VA mortgage lenders to serve veteran families. Rear Admiral Thomas Lynch (retired), executive chairman of NewDay USA and Rob Posner, CEO of NewDay USA, presented Andrew Brennan, founder and executive director of GWOTMF, with a large check at its inaugural fundraising dinner at the American Pharmacists Association on September 12.
"Sixteen years ago this week we witnessed appalling terrorist attacks which claimed nearly 3,000 American lives," said Rear Admiral Thomas C. Lynch, USN (Ret.) Executive Chairman, NewDay USA, "As we remember those lost on 9/11, NewDay USA joins in a remarkable effort to build a memorial that will not only demonstrate our nation's resolve to win the global war on terrorism, it will pay tribute to our armed forces and the families who've sacrificed so much to protect our country."
"It's time to honor those who've sacrificed in America's longest war and acknowledge the personal challenges many of our Veterans face when they come home," said Rob Posner, CEO of NewDay USA. "NewDay USA is a proud partner in this extraordinary effort to create a memorial saluting America's enduring campaign to defeat global terrorism."
The sold out fundraising dinner, sponsored by NewDay USA, Farmers Insurance and Financial Services Roundtable, brought together 200 guests made up of Global War on Terrorism (GWOT) Veterans, advocates and members of Congress. The inaugural event was dedicated to recognizing Veterans and fallen service members who supported the nation's longest war, and aimed to raise funds toward the full cost of the GWOT memorial, and its design and construction.
"Our inaugural fundraising dinner marks a turning point for us as we also celebrated the passage of House Bill 873, signed into law by the President last month, which fully authorizes GWOTMF to build the national Global War on Terrorism Memorial in Washington, D.C.," said Andrew J. Brennan, founder and executive director of GWOTMF. "As we continue to work toward raising the estimated $30-$40 million needed for the memorial, it's the pioneering leadership of companies like NewDay USA who have stepped up to support GWOT Veterans and their families by helping to build a sacred space for healing and honor in service to their fellow Americans."
GWOTMF's second annual fundraising dinner is already in the works for next year with goals for a larger venue to include more veterans, corporate partners, veteran service organizations and memorial supporters. In the interim, supporters can make tax-deductible donations at http://www.gwotmf.org/donate.
###
ABOUT THE GLOBAL WAR ON TERROR MEMORIAL FOUNDATION:
The mission of the Global War on Terror Memorial Foundation is to provide the organizing, fundraising, and coordinating efforts to build a memorial on the National Mall in Washington D.C. to honor our fallen warriors, U.S. services members, their families and all those who supported our nation's longest war. The objective is to create a tangible symbol of the sacrifices made by fallen U.S. service members and their families while they were supporting the Global War on Terror. Visit http://www.gwotmf.org for more information and 'like us' on Facebook to get all the latest updates at http://www.facebook.com/gwotmf.