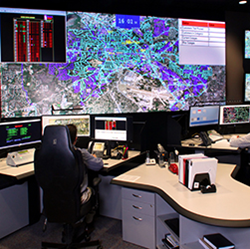 Common Operating Picture…Everywhere. Activu provides energy companies with the visualization technology to manage change, share a common operational picture and maintain situational awareness
Rockaway, New Jersey (PRWEB) September 13, 2017
Activu Corporation will demonstrate its proven information sharing and collaboration solutions which deliver critical information to decision makers on networked displays, such as video walls, desktops and mobile devices at the 2017 EMMOS Users Conference and the 2017 OSIsoft T&D PI User Group Meeting. The events will take place September 17-22 in New Orleans, LA.
A pioneer in the development of control room visualization systems and collaboration software, Activu's enterprise software, ActivWare™, allows users to manage change and share a common operational picture to maintain situational awareness.
For energy and utility companies, the need to easily share information is paramount to effective communications and true situational awareness. With ActivWare, grid operators can dynamically display and distribute visual information on command center video walls, on mobile devices, at local sites and in the field. This can include multiple SCADA views, Geospatial Information Systems (GIS), OMS, DMS, data network monitoring systems, CAD drawings, work orders and other visual information. These dynamic visuals, alongside video feeds from security cameras, data from weather monitors and the latest news feeds provide decision makers with a comprehensive common operating picture. As a result, situational awareness, critical decision making and incident response is significantly improved.
Attendees at the conferences will have an opportunity to preview a live, interactive demonstration of Activu's capabilities while also learning about ActivLink. Created as a way to assist customers with the daunting task of filtering through increasing amounts of information being supplied by control room systems, ActivLink alerts operators to critical events by updating display content in response to user-defined scenarios. OSIsoft users will have the chance to learn about ActivWare's integration with the PI System.
About Activu
Common Operating Picture…Everywhere. In mission critical environments, Activu provides visualization technology to manage change, share a common operational picture and maintain situational awareness. With ActivWare, Activu's visualization and collaboration software platform, users can share information to networked displays (video walls, conference room displays, desktops and mobile devices), collaborate and ultimately achieve enhanced communications and decision making. To find out more information, visit http://www.activu.com.