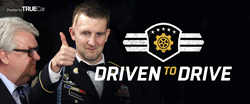 Santa Monica, California (PRWEB) September 18, 2017
As part of their DrivenToDrive program, TrueCar, Inc. (NASDAQ: TRUE) has partnered with Team Red, White & Blue (Team RWB) in support of the Old Glory Relay which kicked off in Seattle on September 11 and will end in Tampa, Fla. on Veterans Day (Nov. 11). DrivenToDrive is a program dedicated to helping veterans who have fought for our freedom, regain their independence and freedom.
The Old Glory Relay is comprised of more than 70 teams of veterans and their supporters completing assigned daily relay legs while carrying a single American flag over 4,600 miles across the country. The Relay is a one-of-a-kind experience filled with unity, patriotism and pride. The final stretch crosses the Florida Panhandle before finishing in Tampa, home of Team RWB's National Firebase, with a Retreat Celebration at the Westfield Brandon mall.
"We are extremely proud to partner with TrueCar for the Old Glory Relay and their DrivenToDrive program," said Dan Brostek, marketing director, Team RWB. "During the Relay, one van becomes the centerpiece for hundreds of amazing stories from individuals across the country, and I can think of no better way to reward a deserving veteran than to present them with a van of their own."
As one of the key sponsors for the Old Glory Relay, TrueCar has equipped Team RWB with a van that will be traveling alongside relay participants as they make their way across the country. At the end of the cross-country journey, TrueCar and honored guest, Retired Sergeant First Class Cory Remsburg, will present one deserving veteran with a new van similar to the one that followed the relay teams across the country. Active members of the military, veterans or immediate family members can enter to win the van at truecar.com/driventodrive.
"We are humbled to be a part of such an inspiring event that empowers and unifies these heroes from across the country," said Lucas Donat, chief brand officer, TrueCar. "All of us at TrueCar have been touched by the veterans in our lives, and we are committed to helping the men and women of our military regain the independence and freedom many of them have lost in service by dedicating ourselves to helping them get back behind the wheel."
CONTACT:
Dan Brostek
Team Red, White & Blue
dan.brostek(at)teamrwb.org
Media interested in the Old Glory Relay contact:
Elleni Almandrez
Fenton
ealmandrez(at)fenton.com
Media interested in Driven to Drive and Van Giveaway contact:
Veronica Cardenas
TrueCar
vcardenas(at)truecar.com
Molly Crabill
Citizen Relations for TrueCar
molly.crabill(at)citizenrelations.com
About Team Red, White & Blue
Team Red, White & Blue (Team RWB) is a 501(c)(3) nonprofit organization founded in 2010 with the mission of enriching the lives of America's veterans by connecting them to their communities through physical and social activity. Team RWB has over 127,000 members spread across 220 chapters and communities located throughout the world. To learn more about Team RWB and how you can help, visit http://www.teamrwb.org.
About Old Glory Relay
The Old Glory Relay spans 62 days and over 4,600 miles from Seattle, Washington to Tampa, Florida. The Old Glory Relay is one of Team Red, White & Blue's cornerstone efforts to help spread their mission, recruit new members and generate donations for their veteran enriching programs. Help support the Old Glory Relay by visiting donate.teamrwb.org/OldGloryRelay.
About TrueCar
TrueCar, Inc. (NASDAQ: TRUE) is a digital automotive marketplace that provides comprehensive pricing transparency about what other people paid for their cars and enables consumers to engage with TrueCar Certified Dealers who are committed to providing a superior purchase experience. TrueCar operates its own branded site and its nationwide network of more than 15,000 Certified Dealers also powers car-buying programs for some of the largest U.S. membership and service organizations, including USAA, AARP, American Express, AAA and Sam's Club. Over one half of all new car buyers engage with the TrueCar network during their purchasing process. TrueCar is headquartered in Santa Monica, California, with offices in San Francisco and Austin, Texas. For more information, go to http://www.truecar.com. Follow us on Facebook or Twitter. TrueCar media line: +1-844-469-8442 (US toll-free) | email: pressinquiries(at)truecar.com