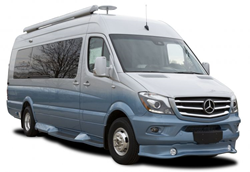 Elkhart, Indiana (PRWEB) September 15, 2017
Grand Coach, the Elkhart, Indiana Class B RV and Sprinter van manufacturer, is holding an Open House at their facility, at 21240 Protecta Drive, Elkhart, Indiana 46516, as part of the 2017 Elkhart RV Open House that is going on from September 18th-22nd. During this spectacular RV event, Grand Coach will be debuting five new Luxury Custom Conversion Vans, including next generation mobility and motorhome styles, to all in attendance. This event will allow OEMs and dealers alike a chance to see the many premium luxury Class B Recreational Vehicles and Sprinter Vans that Grand Coach has to offer.
Since their inception, Grand Coach has been constantly pushing to be at the forefront of the Class B RV industry by continually improving innovative technology and ensuring quality in all that they do, from initial design to completed product. Grand Coach was founded upon and prides itself on being able to continually deliver on their three main tenants of their company philosophy:

Making Dreams a Reality
Different by Design
Smart Camp Technology
2017 Elkhart RV Open House - Grand Coach Introduces Five New Models
Grand Coach's President and CEO, Darryl Connors, is elated to have this chance to open the doors of Grand Coach to those within the industry. Connor's company recently partnered with distributors across the United States, including Giant RV in California, Lazy Days in Florida, and Vogt RV in Texas, to make their product line available in an even wider capacity and to fulfill Grand Coach's tenant of "Making Dreams a Reality" accessible to all. These Sprinter and Recreational Vehicles that are offered by Grand Coach include some highly familiar brands, as well as some previously high-profile brand names. Grand Coach has taken all of their brands and breathed life and luxury into every detail, which will be fully on display during their 2017 open house. These brands include:
ETL 4 Off-road
Luxury Utility Vehicle (LUV)
Execujet Mobile Office Vans
Grand Coach Signature
Dolphin Van
Cape Cod Van
National Traveller on a RAM ProMaster Chassis
Connors wants to display throughout the Grand Coach Open House that quality is at the forefront of the company's mentality at all times. He has stated,
"Acceptance from these dealers is a phenomenal opportunity for Grand Coach. I've had three RVs and I've had RVs from the best." he said. "Having this validation from these outstanding dealers is an unreal boost to our company."
All three of these dealers have expressed praise and excitement to have partnered with Grand Coach. The primary reason for the mutual excitement on both sides is their former history with the Dolphin brands over the decades.
Dick Torres, from Giant RV has stated that "The Grand Coach will give us a B Van that we don't currently carry, we are enthusiastic about our partnership with Grand Coach."
Beyond this, Ron Flemming, Nation Sales Manager of Lazy Days RV, has been cited saying "We are happy to be on board with the Grand Coach team and look forward to growing our partnership together."
Finally, Vogt RV President, Aaron Vogt, has expressed his excitement by saying "After speaking with Darryl Connors, and discussing the company's direction of focusing on customer service and quality products, we quickly realized that we are a great fit, and we feel blessed to have this opportunity."
Connors went on to say, "We're going to build automotive style, and that includes quality control and inspection and finish."
The streamlined process that Connors covers within his statement is the bedrock of what Grand Coach has grown to become: a quality standard in the RV industry.
Contact Information:
Darryl Connors – President
Company: Grand Coach
Address: 21240 Protecta Drive, Elkhart, Indiana 46516
Phone: (574) 264-3951
Website: https://www.grand-coach.com