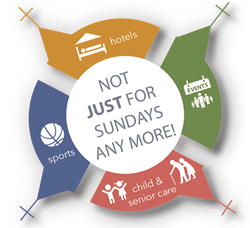 Church facilities have long been a vastly under-utilized ministry tool.
Ogden, UT (PRWEB) September 14, 2017
Building God's Way (BGW), a nationwide church architect with a broad network of other turn-key services to support faith-based organizations, is offering free seminars to ministry leaders in 14 cities this fall. The seminars will focus on effective strategies for churches to grow, fund, build and sustain their ministry vision. The experts from BGW will share how churches can reduce the cost of their next facility expansion or renovation project by up to 30% and how to develop financially sustainable buildings that can free ministries from debt service to have a greater impact on the community.
These free seminars will reveal the keys to integrating for-profit business and utilizing church buildings seven days a week. Church facilities have long been a vastly under-utilized ministry tool, with most spaces left vacant during the week besides an occasional bible study or evening meeting. By stewarding these unused spaces more effectively, ministries can create a sustainable income stream and an incredible avenue for introducing the Christian faith to the surrounding community.
Seminar speakers include experts in the areas of church architecture, construction, funding, real estate development, for-profit business integration and church health. Key speakers include:
Eric Bahme - A senior pastor for nearly 30 years and the author of the book, "The Mission-Based Entrepreneur Revolution: Developing Economic Engines that Drive Mission-based Movements".
Dan Cook - A visionary architect, developer, builder and the founder of the Building God's Way (BGW) network of Kingdom Building Services. Dan has led BGW through the design of more than 750 ministry-based facilities and has pioneered a number of innovative programs that have revolutionized the way churches and Christian schools are designed and built.
Matt Roberts - The Founder and Lead Pastor of The Genesis Project, an active, relational church model that marries an embedded ministry with practical community engagement and sustainable business. The Genesis Project has become a case study for creating a financially sustainable church within communities plagued by poverty and religious apathy.
Don Mahoney - Principal Architect for Building God's Way. Don has one of the most extensive backgrounds in church, school and performing arts architecture in the U.S., designing prominent facilities all across the country throughout his 35 year career.
About Building God's Way - Building God's Way (BGW) has designed more than 750 churches and Christian schools nationwide since 1998. BGW offers a broad network of other services to ministries and has aligned with the best church builders throughout the U.S. to deliver an integrated team approach. BGW's revolutionary approach focuses on delivering the highest level of stewardship, God-honoring relationships and ministry on the construction job site. BGW's network of services also includes construction, funding, church health, building supply and furnishings, financially sustainable building solutions and more.