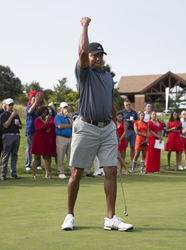 "I'm very honored to be a part of the Julius Erving Golf Classic, this is first-class golf tournament. I'm proud to be the 2017 Champion," said John Starks after his win.
Philadelphia, PA (PRWEB) September 14, 2017
Hall of Fame Basketball forward Julius 'Dr. J' Erving, spent his weekend in Philadelphia, PA., hosting the 3rd annual Julius Erving Golf Classic presented by Delta Air Lines. The three-day experience welcomed celebrities, golfers, fellow sports legends and guests for a one-of-a-kind weekend of sports and entertainment in support of the Salvation Army of Greater Philadelphia, an organization that rightfully helped Erving learn and compete in the game of basketball.
"This was truly a spectacular weekend," said Erving. "Each year we continue to grow and get better, and it is thanks to all of our dedicated partners and guests who continue to support this event. The Salvation Army is very close to my heart, and it is an organization dedicated each day to helping the Philadelphia community."
The weekend kicked off on September 9, with the Erving Youth Basketball clinic which invited young people from the Salvation Army of Greater Philadelphia and Camden New Jersey, to join Erving; Sixers player Markelle Fultz; The Sixers Dunk Team; The Jefferson University Women's Basketball Team and head coach Tom Shirley; Jazmin Erving, daughter of Julius Erving and founder of Grab a Ball & Play; to receive career advice from some of the game's most talented legends and practice their basketball skills and drills. The Youth Clinic was hosted at the new state of the art Sixers Training Complex, currently the largest training complex in the NBA.
On the evening of September 10, guests decked out in their finest attire, headed to the lavish Logan Hotel to walk the red carpet at the Erving "Black Tie" Ball. Hosted by ESPN's Jay Harris and Golf Professional and Fashion Designer Seema Sadekar, Philadelphia Councilman Kenyatta Johnson was called to the stage to honor Erving, with a special proclamation from the city of Philadelphia that recognized the work that he has done for the community throughout his career and his continued support of local area charities, including the Salvation Army. Throughout the evening, guests enjoyed signature Tanqueray No. TEN Cocktails, delicious cuisine, decadent desserts, dancing, and a special musical performance from renowned R&B singer and songwriter, Ginuwine. Erving joined Ginuwine on stage along with R&B legends Jeffrey Osborne, Eddie Levert and Tony Cornelius for an impromptu performance of classic songs from the Dr. J era.
On the final day of September 11, partners and guests headed to The ACE Club to tee-it-up in the official Julius Erving Golf Classic Tournament, featuring the highly anticipated "Erving Museum" filled with iconic pictures from Erving's career, along with custom Sixers jersey inspired Caddie Bibs. The day began with the Erving Opening Ceremony presented by Pond Lehocky Law and featured an inspirational performance of "God Bless America" by Jeffrey Osborne in honor of the Salvation Army of Greater Philadelphia and those that lost their lives on September 11. While guests played the course, the ladies dressed in red and headed to "Cocktails with Dorys" presented by CIROC in the Tanqueray No. TEN Clubhouse Lounge with Dorys Erving, wife of Julius Erving. The official Erving online scoring was presented by BMW.
The "Erving Playoffs" determines the Erving Classic winners. All playoff participants and celebrities made their way to the 18th Par-5 finishing hole tee-box. The winner is announced through a celebrity-amateur 2-man alternate shot format competition in which the top three placing celebrities and the last place celebrity from the final 18-hole tournament select one amateur golfer from their respective teams to compete. The top three 2017 celebrities were John Starks, Charles Barkley and Gerald Henderson Sr.; in last place was Tony Cornelius.
Guests cheered and swarmed the fairway and green to watch each team make their way down the Par-5 18th Hole. Charles Barkley had a 35-foot putt for birdie from the fringe and left his partner a 2-foot tap in. John Starks answered and delivered his must-make 11-foot birdie putt for the outright win, earning the 2017 Julius Erving Golf Classic winning title. The crowds in the fairway and green celebrated his team win, and made their way into the Clubhouse for the Erving Closing Awards & Ceremony presented by Delta Air Lines.
"I'm very honored to be a part of the Julius Erving Golf Classic, this is first-class golf tournament. I'm proud to be the 2017 Champion, our team played hard and stayed focused. I felt confident over the final putt and I knew I had to make it," said John Starks after his win, "I'm looking forward to coming back next year and defending my title."
Other notable Erving winners were Mark Sigala and Lucia Garcia receiving the best dressed award presented by Roots Of Fight. Long Drive presented by DeLeon Tequila was won by Dei Lyman, and in a fitting fashion, long-drive champion Maurice Allen. Closest to the Pin presented by Delta Air Lines was won by 2016 Erving Champion and NFL Hall of Famer, Marcus Allen and Others First, Rick Frazier.
2017 Erving Celebrity Guests included: Former NBA super stars, Alonzo Mourning, John Starks, Gerald Henderson Sr., Eddie Jordan and Reggie Theus; Current NBA players, Markelle Fultz, Justin Anderson, Rondae Hollis-Jefferson; R&B icons Eddie Levert, Jeffrey Osborne and Tony Cornelius; Former NFL players, Marcus Allen, Richard Dent, Keith Byars, Victor Green and Joe Washington; former MLB stars Reggie Jackson and Joe Carter, supermodel Beverly Johnson and many more.
NOTABLE ERVING CLASSIC PARTNERS:
Delta Air Lines, Tanqueray Gin, CIROC, Pond Lehocky Law Firm, The Philadelphia 76ers, Michael Kors, BMW, Roots of Fight, Wawa, Buzz Oates, 251 Dekalb, King Limo Transportation, Nestle Waters, JB Clothiers and many more.
FORMER ERVING CLASSIC CHAMPIONS:
Joe Carter (2015)
Marcus Allen (2016)
John Starks (2017)
ABOUT THE JULIUS ERVING GOLF CLASSIC
The three day experience celebrates the achievements and legacy of Julius "Dr.J" Erving in the city of Philadelphia, where Erving spent most of his illustrious career in the NBA. A portion of the proceeds will benefit the Salvation Army, a non-profit organization dedicated to bringing comfort, food, shelter and care to the needy around the world. The event brings together golf, fashion, lifestyle and entertainment. VIP Packages for the Julius Erving Golf Classic can be tailored to include golf and hospitality. For information on Erving tickets, packages and experiences call PGD Global at 310.926.4075 or email info(at)playgolfdesigns(dot)com.
ABOUT PGD GLOBAL
Play Golf Designs, Inc. (PGD Global) is a golf marketing & event company, directing and participating in luxury events for some of the world's most legendary athletes, brands, entertainers and organizations including Coach Mike Woodson, Julius Erving, Jalen Rose, Chris Tucker, Jeffrey Osborne, Viacom, The Broadcasters Foundation of America, Diageo and MGM Resorts International. PGD blends pop culture and entertainment, creating the most unique, innovative golf events and experiences for each client. PGD Global focuses on celebrating diversity and inclusion in golf while welcoming women to the game with open arms. Specializing in connecting golf to the modern world of trends and fashion, PGD Global operates golf and lifestyle events and experiences all around the country, welcoming new golfers and businesses to the game. More info: http://pgdglobal.com.
ABOUT TANQUERAY
TANQUERAY London Dry Gin is a dry, crisp, gin with a rich juniper flavor. Known for its iconic green bottle and red emblem, TANQUERAY London Dry Gin is the number one imported gin in the United States and is one of the world's most award-winning gins. TANQUERAY gin, TANQUERAY No. TEN gin, TANQUERAY RANGPUR gin and TANQUERAY STERLING vodka together create the renowned portfolio of TANQUERAY. Additional information about the TANQUERAY brand may be found at http://www.tanqueray.com.
Enjoy the finest spirit responsibly. TANQUERAY Gin. 100% Grain Neutral Spirits. 47.3% Alc/Vol. Imported by Charles Tanqueray & Co., Norwalk, CT.
ABOUT POND LEHOCKY STERN GIORDANO
PENNSYVLANIA WORKERS' COMP LAWYERS - Founded by partners Samuel Pond, Jerry Lehocky, David Stern, and Thomas Giordano Jr., the law firm of Pond Lehocky Stern Giordano opened its doors in July 2010 with six attorneys and only 22 total staff members. Today, as the largest workers' compensation and Social Security disability law firm in the region, Pond Lehocky boasts 12 office locations and over 200 staff members. For more information, visit their website at https://www.pondlehocky.com.
ABOUT THE ACE CLUB
The ACE Club in Lafayette Hill, Pennsylvania is the most exclusive corporate club in Greater Philadelphia. The 35,000 square foot clubhouse is the centerpiece of the 300+ acres of pristinely manicured grounds. The comprehensive clubhouse has multiple meeting rooms for corporate meetings and small corporate events, and the entire structure is outfitted with the latest state-of-the-art technology and wireless capabilities. The ACE Club is also home to one of the top-ranked golf courses in Philadelphia, it was noted in January 2015 on Golf Digest's Best in State, and are ranked in the top 20 private courses for Pennsylvania. The 7,500 yard Gary Player Signature Design course is equipped with five tee placements catering to golfers of all abilities. With one of the top caddie programs in Philadelphia to help you navigate the golf course, The ACE Club is a true golf experience. For more information, visit their website at http://www.theaceclubonline.com
ABOUT LOGAN PHILADELPHIA
The Logan Hotel, a Curio by Hilton Hotel, The Logan is a social magnet, infused with a confident, contemporary, and artistic point of view. A special enclave for business and leisure travelers alike, nowhere else gets you as close to all the action in Philadelphia, or if you choose, providing all you need so you never need leave the hotel. As one of the most modern luxury hotels in Philadelphia, PA, The Logan continues that tradition by bringing its own unique viewpoint to the Philadelphia arts district. Local artwork fills the lobby and rooms, and our Logan Square hotel is conveniently located near several museums. The hotel, near Rittenhouse Square, is just steps from one of the most upscale shopping districts in the area. A vibrant hub, here lies Philadelphia's true heart and soul of the city, teeming with extraordinary people and unique experiences. For more information, visit their website at http://www.theloganhotel.com/