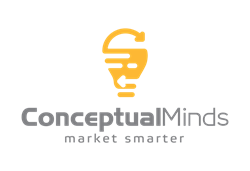 The Conceptual Minds team enjoys introducing new, out of the box ideas, creative designs and new technologies to its clients. We work hard to integrate a perfect blend of visual appeal and ease of use in each of our website projects with the ultimate goal of maximizing user engagement and conversion
Arlington, Virginia (PRWEB) September 15, 2017
Conceptual Minds, a boutique marketing consulting agency, announced today that two of their website projects have won awards in the 17th Annual WebAwards by Web Marketing Association. Gutterman Services website (http://www.guttermanservices.com) won the Best Homebuilding Website for 2017 and Wiygul Automotive Clinic's website (http://www.wiygul.com) won the 2017 Outstanding Website in the Automobile category.
Entries were judged on the following criteria, ranked on a scale of 0-10 points each:
Design
Innovation
Content
Technology
Interactivity
Copywriting
Ease of use
The Gutterman Services website received a score of 63 out of 70 and the Wiygul Automotive Clinic website scored a 61.5 out of 70.
Taran Sodhi, Conceptual Minds CEO, expressed his delight and was quoted as saying, "The Conceptual Minds team enjoys introducing new, out of the box ideas, creative designs and new technologies to its clients. We work hard to integrate a perfect blend of visual appeal and ease of use in each of our website projects with the ultimate goal of maximizing user engagement and conversions. We are thankful for having clients that allow us to showcase our creativity on their behalf and to the WMA judges for this recognition."
About WebAwards
Web Marketing Association is the producer of the WebAward Competition. The competition launched in 2000 and is the longest running annual website award competition dedicated to naming the best websites on the net in 96 industries. The awards help set the standard of excellence for all website development.
About Conceptual Minds
Conceptual Minds (http://www.conceptualminds.com) is a team of creative, experienced, dedicated,
analytical, and customer centric marketers who tend to be "hyper ROI and user experience focused". The team prides itself on providing comprehensive marketing strategy guidance and helping clients realize their business goals. Conceptual Minds serves B2C organizations with a strong focus on automotive, insurance, medical and home services industries