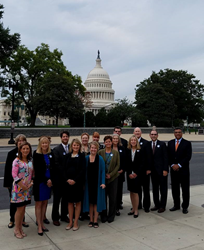 I am convinced that the more of us who engage and educate our Congressman and Senators, the better equipped they are to represent our medical practices and patients we serve.
Fairfax, VA (PRWEB) September 14, 2017
Building on the success of the Radiology Business Management Association's popular 2015 and 2016 Washington, D.C., Hill Days, the RBMA held its first Legislative Education and Regulatory News (LEaRN) Conference from Sept. 10 to 12, 2017. More than 40 RBMA members and staff attended the event. Participants came from all over the country, including blue states like California, Illinois and Massachusetts; red states like Indiana, Missouri, Oklahoma and Texas; and purple states like Ohio and Pennsylvania.
"We were very excited about the topics and speakers we planned for our first LEaRN conference," said Bob Still, RBMA's Executive Director.
The event included one and a half days of educational sessions on legislative and regulatory topics that have an impact on radiology businesses. This was followed by a day-long trip to Capitol Hill where members could visit the Washington, D.C., offices of their elected representatives. Highlights of the conference included:

A panel discussion with several representatives of national physician organizations about health care reform.
A focused presentation about the site-neutral payments policy for imaging by Timothy P. Trysla, a partner in the Health Care Group of Alston & Bird, LLP, and a former Senior Policy Advisor at the Centers for Medicare and Medicaid Services (CMS).
An examination of the current status of civility in American politics by Jeremy Mayer, Ph.D., associate professor in the Schar School of Policy and Government at George Mason University.
An inside look at CMS and health policy from Michelle Stein, chief editor of the daily online newsletter service "Inside CMS."
On the final day of the conference, attendees started the day with a breakfast presentation by Allan Phillips, Chief of Staff and Dan Harder, Legislative Director for Rep. Mike Bishop, R-Mich., a member of the powerful House Ways and Means Committee. From there, they spread out across Capitol Hill to meet with their members of Congress and key healthcare jurisdictional committee staff. RBMA members held more than 35 individual meetings on Capitol Hill. In these meetings, they were able to put the training they had received at the LEaRN conference into action in order to communicate effectively with their elected representatives and their staffs.
"This was an awesome experience to have an opportunity to take part in our country's legislative process," said Dr. Thomas C. Dickerson, Ed.D., FACHE, RBMA President. " I am convinced that the more of us who engage and educate our Congressman and Senators, the better equipped they are to represent our medical practices and patients we serve."
The RBMA helps members advocate for their field in various ways, including sending e-Alerts on breaking legislative, sharing information through its Federal Affairs committee, and emailing members Washington Update, a weekly members-only newsletter on health policy issues.
About RBMA
The Radiology Business Management Association is a national not-for-profit association providing members with applied business information and intelligence applicable in any radiology setting. The RBMA has approximately 2,300 members involved in various management capacities in private practices, academic radiology groups, imaging centers and hospitals. The RBMA continues to be recognized as the leader for radiology-specific educational programs, products and services, publications and data.