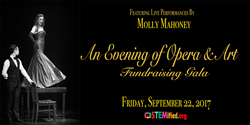 Our main goal is to improve diversity in STEM fields by finding fun and innovative ways of getting STEM programs to young people
San Francisco, CA (PRWEB) September 14, 2017
Award-winning opera vocalist, Molly Mahoney, will perform alongside a private viewing of Jason Mercier & Adam Ansell's "Grumpy Guncles" exhibit in STEMified's fundraising gala Friday, September 22, 6-9pm at Spark Arts in the historic Castro district. Money raised will help bring technologies to classrooms as well as support programs aimed at increasing diversity in STEM fields.
As a start-up nonprofit, STEMified has already found great success. STEMified Board Member Kerri Carr says, "In our first six months, before we even expected to be fully operational, we were able to donate new tablets to classrooms to serve over 100 students." Funds from this event will directly cover the cost of electronics and computer programming kits used by local students and teachers in underserved communities.
The highlight of the fundraising gala will be the live performance of some of operas most famous arias by the extraordinarily talented Mezzo-Soprano Molly Mahoney, alongside a private viewing of the Grumpy Guncles exhibit by pop artists Jason Mecier and Adam Ansel. Critics have described Mahoney's previous performances as "sublime," "heartfelt" and "sheer beauty and eloquence". The art exhibit is a mix of Adam's "Grumpy Guncles" paintings and Jason's Barbra Streisand album art. Tammy Faye and some Real Housewives will also will be there. 
Space is extremely limited, so tickets should be claimed as soon as possible. Tickets are available by making a tax deductible donation of $50 or more at: https://www.stemified.org/event/tickets/.
Background: STEMified is a 501c3 non-profit with an all-volunteer board working to esure traditionally underrepresented groups have the opportunity to get and stay involved in Science, Technology, Engineering and Math (STEM) learning and careers. STEMified offers both online and onsite STEM camps, and works side by side with educators worldwide to ensure classrooms have the technology they need to teach STEM to all students.
STEMified's mission is: To inspire curiosity, encourage learning, celebrate authenticity, and open opportunities that will improve inclusion and diversity in all areas of Science, Technology, Engineering, and Math.
Additional Links to Information:
https://www.stemified.org/
http://mollymarymahoney.com/