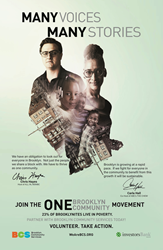 "There's an opportunity that's afforded now for Brooklyn to unite as a borough as a singular community in which the resources, social capital and financial capital can be brought into the borough and used to help lift up everyone."
Brooklyn, New York (PRWEB) September 14, 2017
Brooklyn Community Services (BCS) launched its ONE Brooklyn Community MTA Campaign for the 3rd year on September 12 with "Many Voices, Many Stories," a public service poster campaign seen on 36 Brooklyn subway stations featuring Carla Hall of ABC's The Chew, Chris Hayes of MSNBC's All In with Chris Hayes, AFROPUNK co-founder and partner Jocelyn Cooper, renowned Principal Nadia Lopez and a diverse group of Brooklyn notables speaking out about Brooklynites who are living in poverty and the impact of volunteering, advocacy and philanthropy to make a positive difference. Sponsored by Investors Bank, ONE Brooklyn Community "Many Voices, Many Stories" will be on view through October 12th.
Although many Brooklyn neighborhoods have experienced a rise in wealthy apartment renters and home-buyers, the current US Census estimates that 23 percent of Brooklynites are living in poverty. The BCS ONE Brooklyn Community "Many Voices, Many Stories" MTA subway poster campaign spotlights an eclectic group of 22 notable Brooklynites, ranging from children to adults, who bring a socially conscious lens to their life and work.
The ONE Brooklyn Community Ambassadors represent media, art and entertainment, interior design, fashion, cuisine, education and social justice activism. "There's an opportunity that's afforded now for Brooklyn to unite as a borough as a singular community in which the resources, social capital and financial capital can be brought into the borough and used to help lift up everyone," said Brooklyn resident MSNBC's Chris Hayes, a lifelong New Yorker. Hayes is the Emmy Award winning news anchor of MSNBC's "All in with Chris Hayes," author of Twilight of the Elites: America After Meritocracy, and an editor-at-large at The Nation. He is a former fellow at Harvard University's Edmond J. Safra Foundation Center for Ethics.
Carla Hall, co-host of ABC's Emmy award winning "The Chew," began her TV career on Bravo's "Top Chef." She's been a chef at the Washington, DC's Henley Park Hotel, State Plaza Hotel and Washington Club. Hall is the culinary ambassador to the Sweet Home Café at the Smithsonian Institution's National Museum for African-American History and Culture and has owned two eateries in Brooklyn.
The cultural advocates in the ONE Brooklyn Community "Many Voices, Many Stories" MTA campaign are entertainment innovators that have merged art and politics to create political statements through festivals, satire, music, movies and choreography. Jocelyn Cooper, partner and co-founder of AFROPUNK, has taken a Brooklyn concert series and created global festivals in the US, England, France and South Africa filled with music, fashion, art, politics, and poetry. Franchesca Ramsey, host of the MTV web series "Decoded," is an actress, comedian, and video blogger with over 29 million views on YouTube and has an upcoming TV show on Comedy Central. DJ Spinna, is an internationally recognized DJ, artist and music producer, who collaborates with Spike Lee annually on the Michael Jackson tribute party. Celia Rowlson-Hall, a filmmaker/choreographer, directed the feature film MA has also choreographed for Lena Dunham on 'GIRLS,' Alicia Keys' video and fashion videos for Vogue and Vanity Fair. Mia Lidofsky is the director/writer of "Strangers," the Facebook original series, which premiered at the 2017 Sundance Film Festival. Lidofsky and Rowlson-Hall are partners and co-directors of the famed YouTube "Pantsuit Power Flash Mob" for Hillary Clinton in 2016.
The activists seen in the ONE Brooklyn Community "Many Voices, Many Stories" MTA campaign are frontline advocates challenging injustices who range from a 9 year-old transgender boy to the co-founder of #Black Lives Matter. Penelope (Penel) Ghartey, age 9, is a student and athlete who has told his story to Cosmopolitan, REUTERS, ESSENCE and Family Circle. Tiq Milan, is a transgender activist, writer, public speaker, media consultant and spokesperson for GLAAD. Since his journalism career was launched as a writer and contestant on the MTV reality show "I'm From Rolling Stone," he's penned features for the New York Times, The Source, Vibe, Huffington Post and others. Georgia Becker, age 18, is a community activist and new student at Oberlin College, who advocates for her brother Penel and uses her voice to support many social justice issues. Nadia Lopez, the nationally recognized principal and founder of Mott Hall Bridges Academy, whose Humans of New York story went viral and was invited to meet with President Obama. Opal Tometi, is a writer, strategist, community organizer, co-founder of #Black Lives Matter and Executive Director of Black Alliance for Just Immigration. Tometi was honored at BET's Black Girls Rock, Fortune, POLITICO and Glamour magazines.
These thriving Brooklyn lifestyle entrepreneurs seen in the ONE Brooklyn Community "Many Voices, Many Stories" MTA campaign specialize in design, food and fitness and pay it forward through their volunteering, mentoring and partnering with charities. Malene Barnett, Design Director at Malene B, an award-winning design firm with a pulsating collection of bespoke carpets, fine art wall coverings and artisan tiles. Barnett has been featured in Interior Design Magazine, House Beautiful, New York Magazine, HGTV, Luxe Magazine, MSNBC and more. Anishka Clarke and Niya Bascomare, partners of Ishka Designs, a renowned "casually sophisticated" interior design firm specializing in vacation properties, restaurants and residences globally. They've been featured in New York Spaces, Anthropology, New York magazine and NBC "Open House." Gwendolyn Niles and Fifi Bell Clanton, co-owners of The Crabby Shack, are former music executives with Sean "Diddy" Combs, Alicia Keys and Wyclef Jean followed their foodie passion to establish the popular crab soul food restaurant. It's drawn celebrities like Denzel Washington, Danielle Brooks, Gabrielle Union, and Malik Yoba. Kathryn Budig, celebrated worldwide for her accessible and joyous approach to yoga, is author of The Women's Health Big Book of Yoga and Aim True, a former yoga editor at Women's Health, an Under Armour's model in "I WILL WHAT I WANT" and the co-host of espnW's podcast "Free Cookies."
"We are actively supporting and participating in the ONE Brooklyn Campaign to honor BCS's 150-year legacy of serving people and communities across the Borough," said Investors Bank Senior Vice President and General Counsel Brian Doran. "The campaign provides BCS with the framework to communicate how it is implementing new, innovative service models in Brooklyn's diverse neighborhoods. Equally important, the campaign is helping BCS attract and involve more individuals as well as groups who bring new ideas for broadening and transforming its social services."
"The commitment of Investors Bank to the Brooklyn community has enabled BCS to partner with Brooklyn notables who help us build greater awareness, community engagement, volunteerism, philanthropy and activism," said Sonya Shields, Chief Officer for External Relations and Advancement at Brooklyn Community Services. "Brooklyn is developing so rapidly. The downtown area is becoming little Manhattan, but most people aren't aware that 23% of the borough lives below the poverty line. Our ONE Brooklyn Community campaign aims to celebrate the triumphs of our community, but draws much needed attention to serious struggles that poor people face on a daily basis and ways to get involved and make positive change in our community."
The ONE Brooklyn Community "Many Voices, Many Stories" campaign includes a documentary with interviews with several of the ONE Brooklyn Community Ambassadors that is available on YouTube. The ONE Brooklyn Community "Many Voices, Many Stories" Art Director is Grammy nominated singer, model and writer Maiysha Kai, and the photographer and visual artist is Mark Holthusen.
Other participants in the 2017 ONE Brooklyn Community Campaign include:
Noel Allain, Artistic Director at The Bushwick Starr
Lily Cummings, Photographer
Sara Elise, Owner and Designer of Harvest & Revel
Preston Ferraiuolo, age 12, President of the Bay Ridge Lemonade Coalition
Sue Kessler, Executive Director, The Bushwick Starr
Lyris Pierson, age 7, Model & Inventor of Simple Machines
Daniel Stedman, Founder at Brooklyn Magazine
Anaya Lee Willabus, age 9, Award-Winning Author & Poet
Ora Wise, Head Chef and Community Organizer of Harvest & Revel
About Brooklyn Community Services
BCS envisions ONE Brooklyn Community where all members of our community can access an excellent education, job opportunities, safe and affordable housing, and quality and affordable healthcare and wellness programs. Celebrating our 150th anniversary, BCS has over 25 program sites throughout Brooklyn and serves 18,000 people every year.