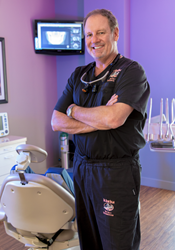 (PRWEB) September 14, 2017
New patients with missing teeth are invited to celebrate Self Improvement Month by receiving All-on- 4® arch solutions or single dental implants in Mt. Pleasant, SC, from Dr. Kevin Hogan, with or without a referral. Replacing missing teeth with long-lasting dental implants offers both aesthetic and functional benefits. To improve the accuracy of implant placement, Dr. Hogan uses 3D Cone Beam CT imaging technology.
It is not unusual for adults to lose one or more teeth due to sports injuries, accidents or periodontal disease. However, many people with missing teeth do not fully understand the repercussions they could experience if they do not promptly have their teeth replaced. When a tooth falls out and the jaw bone is no longer stimulated by the roots of the missing tooth, it begins to degrade and weaken. Over time, this weakening of the jaw bone can cause adjacent teeth to shift in the mouth and could even lead to noticeable changes in the way the face looks. For these reasons and more, Dr. Hogan encourages patients who have lost teeth to quickly seek treatment. He offers leading dental implants in Mt. Pleasant, SC, that he places with assistance from 3D Cone Beam CT imaging technology. This Technology helps ensure the most accurate placement so that patients are more likely to have a positive long-term treatment outcome.
Dental implant posts are surgically inserted into the jaw bone, where they provide stimulation to the area. This stimulation is very similar to that provided by natural tooth roots and helps to prevent bone degradation. Patients who already have a moderate to severe amount of bone loss in the jaw may be able to receive bone grafts to help restore bone density and prepare them to receive dental implants. Dr. Hogan urges patients with missing teeth to find out if they are candidates for All-on-4 solutions or single dental implants in Mt. Pleasant, SC. Consultations can be arranged by visiting his website at http://www.smilesbyhogan.com or calling 843-639- 5921.
About the Doctor
Dr. Kevin Hogan is a general dentist providing individualized care for patients in Mt. Pleasant, SC. Dr. Hogan is a graduate of the ndiana University School of Dentistry and has completed hundreds of hours of continuing education courses to stay contemporary with the latest dental technologies. In addition, he has also completed coursework with the Dental Organization for Conscious Sedation and has lectured at the University of North Carolina, Emory University, the Saginaw Valley University and AUA-American University of Antigua on head and neck anatomy and oral pathology. Dr. Hogan is a member of the American Dental Association, International College of Cranio-Mandibular Orthopedics, Academy of Laser Dentistry, International Association of Physiologic Aesthetics, Institute for Advanced Laser Dentistry, DOCS (the Dental Organization for Conscious Sedation), International Congress of Oral Implantologists and the South Carolina Dental Association. He is also a past member of the American Straight Wire Orthodontic Association, Maxillofacial Orthopedic Growth and Development, the American Academy of Pediatric Dentistry and the Functional Orthodontic Society. He and his team are dedicated to providing exceptional oral care to patients through personalized treatment plans. To learn more about the services offered by Dr. Hogan, please visit his website at http://www.smilesbyhogan.com or call 843-639- 5921.