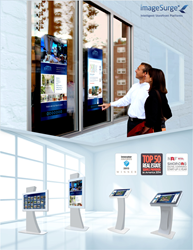 How brick-n-mortar brokerages complete and drive their ROI in the digital economy.
New York, NY (PRWEB) September 13, 2017
imageSurge Inc., a pioneer in the development of Intelligent Brick-and-Mortar Storefront solutions, has surveyed over 200 leading U.S. real estate brokerage owners to describe their views about the future of the brick-and-mortar realty. The findings are offered in the "2017 Real Estate Industry Brick-and-Mortar Report", which can be requested at: https://www.imagesurge.com/reports.
imageSurge has an 85%+ market share in the real estate vertical and is redefining how brick-n-mortar brokerages complete and drive their ROI in the digital economy. The imageSurge Intelligent Window Storefront enables foot traffic consumers to engage digital content throughthe storefront glass. It transforms an ordinary office window into a powerful interactive sales and marketing platform that facilitates foot traffic conversion and lead capture even when the office is closed.
"Thanks to our extensive network of applications that specifically deal with the needs of brick-n-mortar brokerages, this survey has yielded invaluable and sometimes surprising insights into where the real estate industry is heading with the physical office," said Oleg A. Vyadro, imageSurge CEO.
ABOUT IMAGESURGE
imageSurge was founded in 2012. Its patent pending Through-Glass Touch-Sensing (IRLE) technology was a game changer due to its ability to work with any type of commercial storefront glass, including "Low-E" (energy-efficient) windows that are utilized in nearly all new construction today.
imageSurge platforms have been deployed by over 200 of the world's leading brands, including Fortune 500. The company currently operates over 300 storefront locations across the U.S., Canada and the Caribbean.