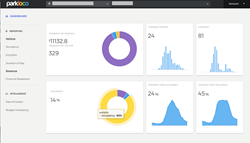 Boston, MA (PRWEB) September 15, 2017
Parkloco, a leading parking data analytics firm in the US, today announced that it would be launching a new product line "Parkloco Intelligence". The various product features aims to streamline business processes and improve operating efficiency in what is still a fairly manual and labor intensive industry. The company prides itself on employing cutting-edge technologies in machine learning and data science to facilitate the industry to make more informed, data-driven decisions. The new product line enables ownership groups, property management companies, and parking operators to simulate parking rates and its impact, prepare revenue projections, maintain portfolio-wide budgets on a single platform, to name a few. Parkloco has partnerships and alliances with clients across the US and the new launch would take their product offering to a whole new level.
To schedule a demo, please contact info@parkloco.com
About Parkloco: Parkloco provides data analytics and business intelligence solutions to the parking industry. With national and regional engagements throughout the U.S., Parkloco envisions enabling its clients with leading edge access and business insights into its parking operations and trends.