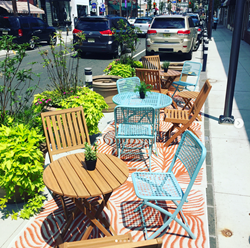 "This project is helping to create a safer, more user-friendly and vibrant downtown. We have seen a reduction in accidents, decreased speeds on main streets and greater accessibility to all of our incredible businesses for all residents." - Millburn Township Mayor Cheryl Burstein
Millburn, New Jersey (PRWEB) September 14, 2017
Millburn Township announced today that its Complete Streets program will be given the Complete Streets Excellence award at the 2017 New Jersey Complete Streets Summit held at Rutgers University on October 24, 2017. The award recognizes a municipality that has demonstrated excellence in Complete Streets policy development and implementation.
The award will be presented by the Voorhees Transportation Center at Rutgers, the State University of New Jersey and the Office of Bicycle and Pedestrian Programs at the New Jersey Department of Transportation (NJDOT) to Millburn Township Mayor Cheryl Burstein and other local officials.
"We are gratified that our Township will receive a Complete Streets Excellence award," says Millburn Township Mayor Cheryl Burstein. "This project is helping to create a safer, more user-friendly and vibrant downtown. We have seen a reduction in accidents, decreased speeds on main streets and greater accessibility to all of our incredible businesses for all residents."
Millburn Township was selected because of the scale of changes it has made to the town in accordance with Complete Streets policy, including parklets, streetscaping and widened sidewalks.
"Millburn's commitment to a comprehensive Complete Streets design and implementation is impressive. The township is not only investing in safety improvements, but creating a vibrant and active downtown for all to enjoy. We are proud to honor them with this award," says Charles Brown, chair of the 2017 Complete Streets Summit Planning Committee.
Previously, excellence awards have gone to the Township of Montclair, City of Lambertville, City of Hoboken, and the City of New Brunswick.
The $8.2 million Complete Streets program was adopted by Millburn Township in 2014 to update a functionally obsolete downtown infrastructure and make roadways and sidewalks safer for motorists and pedestrians. A comprehensive traffic analysis was performed by Sam Schwartz Engineering and the final design by Arterial Streets, LLC, included feedback from several public open houses.
A three-phase implementation plan was developed with a robust series of traffic calming and improvements that include road-diets, curb bump-outs, bicycle parking, widened sidewalks and corners, high-visibility crosswalks, pedestrian lighting, signage and more.
The town is already seeing positive changes as a result. Speeds have decreased in the reconfigured areas of Millburn Avenue with the average motorist traveling at 29 miles per hour. When compared to the three years preceding Complete Streets construction, the Main Street intersections of both Millburn Ave. and Essex St. have experienced a 23% decrease in motor vehicle and pedestrian accidents.
The construction of flexible parking made "Millburn Live" events possible during weekends in June 2017 where street vendors, live music and kids activities brought hundreds of people into downtown Millburn. A new app called mPay2Park has made paying for parking simpler in the town allowing for mobile, on-the-go payments with no transaction fees. Zone C along Millburn Avenue now offers free 15 minute parking at the pay stations for those that just want to run a quick errand.
The township began construction on the final part of Phase One of its Complete Streets program last week. Crews are working on a short stretch of Millburn Avenue between Douglas Street and Spring Street for approximately three to four weeks. The work will improve pedestrian safety for students at Washington School and Millburn High School while enhancing sidewalk accessibility.
The 2017 Complete Streets summit will bring together over 200 planners, engineers, advocates and policy-makers throughout the state to advance strategies for providing a safe, multi-modal transportation system that's accessible to all users. Over 130 municipalities and counties in New Jersey have adopted Complete Streets programs.
A Complete Streets Summit Planning Committee was tasked with sifting through dozens of entries to find a winner. Committee members included officials from:
-Office of Bicycle and Pedestrian Programs at the New Jersey Department of Transportation
-The North Jersey Transportation Planning Authority
-Delaware Valley Regional Planning Authority
-South Jersey Transportation Planning Authority
-New Jersey Bike & Walk Coalition
-Tri-State Transportation Campaign
-Sustainable Jersey
-AARP
-The Alan M. Voorhees Transportation Center at Rutgers University
Other townships and projects to be honored this year include the Borough of Somerville, Cape May County, the Ironbound Neighborhood in the City of Newark, Kings Highway Trail, and the City of Morristown.
About the Complete Streets Program
Starting in 2014, Millburn Township adopted a Complete Streets program outlining a series of goals and objectives to make the streets safer for pedestrians, improve traffic flow, address intersection congestion and calm traffic where appropriate. The Complete Streets program is part of a national coalition that is driving towns throughout the U.S. to create livable, attractive communities with accessibility to public places for all. The changes in Millburn, enacted through multiple phases of construction, will also enhance the vibrancy of streets for pedestrians leading to greater walkway flow for local businesses while supporting the economic vitality of the area. The proposed changes came from a complex assessment process that took into consideration a myriad of challenges that faced vehicles, pedestrians and businesses in the town. Township officials encourage residents to review the conceptual plans, ask questions and provide feedback. http://www.twp.millburn.nj.us/302/Complete-Streets
About Millburn, New Jersey
Established in 1857, Millburn, NJ is a suburban township in Essex County, New Jersey. With a population of more than 20,000, the township is home to 200 retailers along with top ranked schools that serve over 4,000 students. Landmarks within Millburn, NJ, include the South Mountain Reservation, The Mall at Short Hills, Greenwood Gardens, the Cora Hartshorn Arboretum, and the Paper Mill Playhouse. http://www.twp.millburn.nj.us