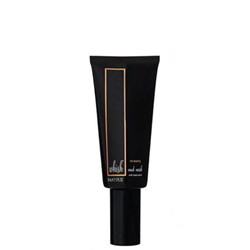 "We picked the Renewing Mud Mask because masks are something our members consistently ask for. It's a great item for tackling problem skin during the changing seasons we and know that our members will adore it."
Scottsdale, Arizona (PRWEB) September 15, 2017
Whish Beauty announced that its Renewing Mud Mask will be included in the latest FabFitFun box, available exclusively to FabFitFun members that subscribe today. This natural amazing mask is loaded with anti-aging ingredients along with bentonite clay and mushroom enzymes that refine, brighten, and exfoliate the skin. The renewing Mud Mask is also formulated with bakuchiol--a wild harvested ingredient that is clinically proven to provide retinol like results without any harsh side effects. Just a thin layer and a circular rub provides a gentle resurfacing exfoliation to reveal smoother, softer, more youthful looking skin.
We are so excited to partner with FabFitFun. They have such a curated experience and loyal fan base and we feel this is an amazing opportunity to introduce people to Whish that are interested in new brands and quality products.
Women's lifestyle brand FabFitFun delivers a seasonal box of full-size products across beauty, fashion, fitness, home, tech and more, to hundreds of thousands of members. The FabFitFun Box includes everything women need to feel good from the inside out. In addition the box, FabFitFun members have access to streaming fitness videos on FabFitFunTV, daily lifestyle content on the FabFitFun website and social media, access to the FabFitFun online community, members-only shopping experiences like add-ons and capsule sales and the FabFitFun mobile app.
"Every season we go through a rigorous process to select each item for the FabFitFun Box that includes surveying members, research and testing by our merchandise team, quality control and more," said Katie Ann Rosen Kitchens, co-founder and editor-in-chief. "At FabFitFun we know that what we put ON our body is as important as what we put IN it. That's why we love the all-natural and organic ingredients featured in the Whish line. We picked the Renewing Mud Mask because masks are something our members consistently ask for. It's a great item for tackling problem skin during the changing seasons we and know that our members will adore it."
The Fall FabFitFun Box is one of the highest value boxes to date, including a minimum of $377 retail in products featuring some of the latest innovations in beauty like an apple cider vinegar hair rinse and charcoal teeth whitener. Eight products in the Box are from female-founded companies and five are cruelty-free, while three products are made in the USA. All FabFitFun members that receive the Fall Box have the opportunity to win an all-expense trip to the British Virgin Islands.
About Whish:
Whish is a pioneer in discovering natural ingredients which enable intelligent choices for your skin. Founded by husband and wife Jesse and Aimee Werner to solve her quest for a better and natural shave, the company has evolved into leading the quest for high performance effective natural products.
About FabFitFun:
Founded in 2010 by Co-CEOs Daniel and Michael Broukhim and Editor-in-Chief Katie Rosen Kitchens, FabFitFun is a lifestyle membership that inspires women to lead happier, healthier lives through product and brand discovery. Its flagship service, the FabFitFun Box, delivers a curated collection of full-size products across beauty, fashion, wellness, fitness, home, technology and beyond – each season. In addition to the box, FabFitFun members receive access to FabFitFunTV, a streaming video service that offers on-demand workouts; daily lifestyle content; the FabFitFun online Community; members-only shopping experiences like add-ons, warehouse sales, capsule collections and a perks dashboard, and the FabFitFun mobile app. Join FabFitFun by visiting fabfitfun.com.
Whish Beauty
Anna Clare Conway, Public Relations
aconway(at)whishbeauty(dot)com
480.219.0864
FabFitFun:
Michelle Kim, Head of Communications
michellek(at)fabfitfun(dot)com
214.277.3244