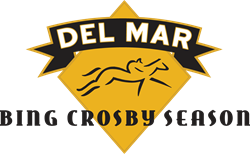 Del Mar, Calif. (PRWEB) September 13, 2017
With Del Mar closing out a stellar 78th summer season, the racetrack is looking ahead to its annual fall meet. The track's second season, known as the 'Bing Crosby Season,' is set to kick-off Wednesday, November 1, followed by one of Thoroughbred racing's most prestigious international events, the 2017 Breeders' Cup World Championships on November 3 and 4.
The racetrack's fall season, now heading into its fourth year, is all about bringing back the old-school cool of the era and style of the track's founder and entertainment icon Bing Crosby. With its deep-rooted history in Thoroughbred racing and high-status as the go-to spot for the rich and famous, the iconic racetrack is the perfect host for this year's 34th running of the Breeders' Cup. The event will make history when it debuts "where the turf meets the surf" and with it brings top horses and trainers from around the world to race at the seaside oval.
Opening Day of 'Bing Crosby Season' is Wednesday, November 1, and will attract the region's most stylish ladies and dapper gentlemen for the Opening Day Vintage Hollywood Fashion Contest. Fashion enthusiasts can head to the track in their best Hollywood-inspired outfit or dress up as their favorite celebrity idol to enter. Up to $3,000 in prizes will be given out to the winners of each category: Most Glamorous, Best Dressed Couple or Debonair Man, Best Celebrity Lookalike or Famous Character.
Bing was a music man, of course, so no doubt he'd have no problem appreciating the two concerts the track will present: the eclectic hip-hop group The Roots on Saturday, November 11, and the return of its popular Reggae Fest featuring Iration on Saturday, November 18.
Also on November 18, the track welcomes college students to its annual College Day where all students get in at no cost with valid college I.D. and can enjoy live music by Red Bull DJs, activities and more at the Red Star Café.
On tap the following Saturday, November 25, Del Mar brings together the best of San Diego's buzzing beverage scene in one epic event. The day will include the Craft Beer, Cider, Cocktail & Wine Fest offering dozens of local seasonal brews, ciders, cocktails and wines to taste.
Del Mar will be open on Thanksgiving Day, November 23, with a special racing card and an early 11 a.m. first post. Race fans can enjoy a morning at the track while the turkey cooks and create a new holiday tradition with friends and family. Or, leave the cooking up to Del Mar and join us for Thanksgiving Brunch including racetrack admission, Turf Club table and a mouth-watering brunch menu or turkey dinner with all the trimmings. Also on Thanksgiving morning, bring the entire family out to stretch their legs around the track before the big meal during Del Mar's Family Fun Run at 8 a.m. Runners will complete a one-mile loop on the dirt track and may even find themselves running alongside a world-class jockey or two. A host of family-friendly activities will be available post-race for kids of all ages, along with a puppy run and puppy adoption event put on by the Helen Woodward Animal Center.
Every Saturday throughout the fall season Daybreak at Del Mar is on offering race fans an assorted breakfast menu and behind-the-scenes info about the track as the Thoroughbreds gallop in front of them during the morning workouts from 8 - 10 a.m. Former jockey and event announcer Jeff Bloom hosts an interactive Q&A session during the morning providing insight and fun facts about everything horseracing.
Then every Sunday, brunch lovers rejoice during Taste of the Turf Club. Guests can experience a deliciously decadent day at the races featuring creative cuisine from one of San Diego's most celebrated chefs, Brian Malarkey, a reserved table in the exclusive Turf Club and bottomless mimosas and bloody marys.
The Sunday fun doesn't end there. Free & Fun Sundays are back this fall and include free Stretch Run Admission, a program and a seat along with half-price signature cocktails, such as Del Margaritas and Del Marys, every Sunday this fall.
Fall racing at Del Mar will take place Thursday through Sunday, with the exception of Opening Day, Wednesday, November 1. Post time will be 12:30 p.m. most days with the exceptions of: Breeders' Cup on November 3 (11:25 a.m. first post) and 4 (10:10 a.m. first post), and Thanksgiving Day (11 a.m. first post). Admission at ALL gates will be $6 ($3 for Diamond Club members). All concerts are 18 and up.
For more information, call 858-755-1141 or visit http://www.delmarracing.com.You can follow Del Mar on Instagram, Twitter, and Snapchat @DelMarRacing or like us on Facebook at Facebook.com/DelMarRaces.