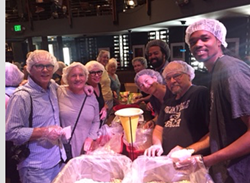 "My band and I really appreciate Dakota Jazz Club and Harvest Pack for giving us the chance to roll up our sleeves and pitch in to help. When disasters like this happen, sometimes you feel like there's nothing you can do, so we're grateful for the opportunity to do our small part."
Washington, DC (PRWEB) September 13, 2017
On Thursday, September 14, singer and winner of America's Got Talent, Landau Eugene Murphy Jr. volunteered with the Dakota Jazz Club, who hosted a meal pack in partnership with Harvest Pack in an effort to provide relief to those whose lives were shaken by Hurricane Irma. Landau participated in the event prior to his concert at the Dakota and everyone who volunteered was offered a 20% discount on tickets to Landau's performance.
Landau and his band worked alongside volunteers, packing 15,000 meals to be shipped to the Bread of the Mighty Food Bank. Bread of the Mighty serves a five county area in Florida: Alachua, Dixie, Gilchrist, Lafayette and Levy. The pack started at noon and anyone who wanted to volunteer was invited.
"My band and I really appreciate Dakota Jazz Club and Harvest Pack for giving us the chance to roll up our sleeves and pitch in to help. When disasters like this happen, sometimes you feel like there's nothing you can do, so we're grateful for the opportunity to do our small part," said Landau.
 
Landau just returned last week from driving 46 hours round trip with the Cora West Virginia Fire Department to deliver a trailer full of emergency supplies to the victims of Hurricane Harvey in Texas. Since winning AGT in 2011, he's helped raise well over a million dollars for a variety of charities benefitting children, the elderly, homeless and disaster relief efforts. 
Read about last week's Hurricane Harvey meal pack here: http://www.startribune.com/minnesotans-help-hurricane-victims/443336863/
Read more about Harvest Pack here: https://harvestpack.org/mission/
Read more about Bread of the Mighty Food Bank here: https://www.breadofthemighty.org/who-we-are.html