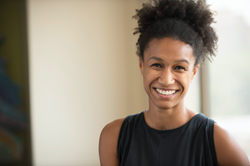 "Nicole Cardoza has the perfect combination of experience in technology and mindfulness, entrepreneurship and creativity that will take Mind Yeti to the next level." - Mia Doces, Director of New Mission Ventures at the Committee for Children
Seattle, WA (PRWEB) September 14, 2017
Nicole Cardoza, founder of Yoga Foster, a Forbes 2017 30 under 30 awardee, and a TEDx Speaker, has joined the Committee for Children as the Product Lead for Mind Yeti. Mind Yeti, a free app, teaches research-based mindfulness skills to children ages 5 to 12 using fun, kid-friendly characters and engaging stories that help kids "settle the hubbub" and calm down, focus and connect better with the people around them.
"I'm excited to support this growing platform to bring mindfulness to teachers, students and their families," said Cardoza. "This role nicely blends many aspects of my past experience: empowering educators with mindfulness tools in the classroom and developing mobile experiences for major brands."
More than 500,000 kids and adults have experienced Mind Yeti at school and at home. Mind Yeti's groundbreaking approach to mindfulness has zeroed in on the importance of meeting kids where they are, including creating a unique language that encourages open and honest dialog around feelings and self-acceptance. Mind Yeti also helps them focus on positive attitudes and behaviors like practicing gratitude and kindness.
"We are thrilled that Nicole has joined the team in this leadership capacity," said Mia Doces, Director of Committee for Children's innovation team: New Mission Ventures (NMV). "She has the perfect combination of experience in technology and mindfulness, entrepreneurship and creativity that will take Mind Yeti to the next level."
Mind Yeti is a core component of the overall Committee for Children's mission to foster the safety and well-being of children worldwide through social-emotional learning education. It's flagship program, Second Step, is used in 40% of US schools and 70 countries worldwide, reaching over 10.6M children a year. Mind Yeti is the first Committee for Children product that bridges the social-emotional learning in the classroom directly into the home.
Cardoza will lead the development of the Mind Yeti road map so as to help guide and deepen the experience of children and adults learning and practicing mindfulness together.
About Mind Yeti
Mind Yeti is mindfulness for kids and their adults. Mind Yeti's unique characters, stories, voices, and sounds make mindfulness for kids fun. Designed for children aged 5–12, it teaches kids the skills to calm down, focus, and connect better with the world around them. Mind Yeti currently offers 15 free guided audio sessions and a growing library of premium content. Individuals can sign up for free at MindYeti.com, or download the iOS app from the App Store.
Connect with Mind Yeti on Facebook, Twitter, and Instagram.
CONTACT: Kristina Libby, klibby@cfchildren.org, 207-215-4031
About Committee for Children
Founded in 1978, Committee for Children is a global nonprofit dedicated to helping children everywhere thrive emotionally, socially, and academically. Committee for Children is the world's largest provider of research-based educational programs that promote social-emotional skills and prevent bullying and sexual abuse. Committee for Children works with educators, parents, policy makers, and partner organizations to deliver programs, advocate for public policies, and provide leadership in the field. Today the organization's curricula reach schools in more than 70 countries, including 30% of all U.S. elementary schools. Learn more at cfchildren.org.
Connect with CFC on Facebook and Twitter.
CONTACT: Shauna McBride, smcbride@cfchildren.org, 206.612.8718