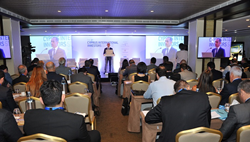 Limassol, Cyprus (PRWEB) September 14, 2017
Windsor Brokers was invited to take part in the 2nd Cyprus International Investors Summit which took place in Limassol during 11-13 September 2017. The Company was represented by Mr.Jabra Serieh, Director of Sales and Marketing. Mr.Serieh was part of a panel discussion entitled 'The Cyprus Success Story from the eyes of the international investment community'.
Mr.Serieh commented on the island's speedy recovery following the 2013 bail-in and why foreign investment firms continue to choose Cyprus as an investment destination, citing the island's strategic location, advanced infrastructure and stability.
As regards Cypriot Investment Firms (CIFs), Mr.Serieh drew attention to how rapidly the Forex and Binary Options industry has grown, adding that new European Directives being put into force in January 2018, will lead to both new challenges and opportunities. Mr.Serieh reiterated CySEC's crucial role, pointing out to the fact that the Commission is already enforcing corrective measures, placing CIFs like Windsor Brokers 'a step ahead' as regards meeting EU regulatory requirements, adapting to new challenges, as well as remaining competitive.
The Summit, organised by the Cyprus Investment Promotion Agency, and under the auspices of the President of the Republic of Cyprus, Mr.Nicos Anastasiades, was attended by over 150 delegates from the Middle East, Asia, Africa, Europe and the USA, coming from a wide range of fields and service industries. The 2nd Cyprus International Investors Summit was a great networking opportunity for both local and international delegates, as well as a chance for investors to become informed regarding specific investment opportunities which were presented on the second day of the event.
About Windsor Brokers Ltd.
Windsor Brokers is an international, multi-award winning investment firm operating since 1988, offering a wide spectrum of FX and CFD products to retail and institutional traders globally.
Windsor Brokers is licensed and regulated by CySEC, EEA authorised by the FCA and is one of the most highly capitalised brokers in the financial industry.